Gordon Ramsay Has Champagne Confiscated in Qatar, Hates Islamic Nation's Alcohol Ban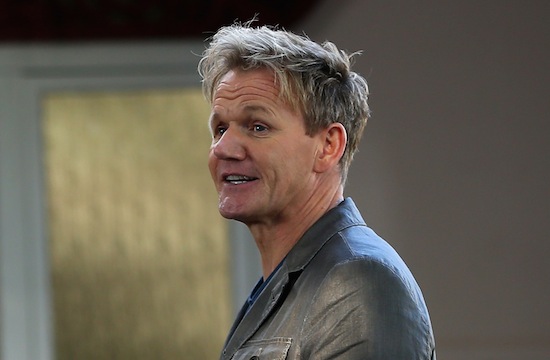 Internationally-renowned chef and Pratface McPraterson Gordon Ramsay has stated on the record multiple times that he thinks the Middle East's longstanding alcohol ban is a terrible, stupid thing, and he repeated that claim yesterday after authorities seized a bottle of his — his — Dom Pérignon.
"It's the first time I've ever been stopped by customs," Ramsay said at a press conference on Sunday, according to Arabian Business. "The alarm went off and I got called into a little room. So it's been confiscated -– the first time I've ever lost a bottle of Dom Pérignon!"
Fun fact: Gordon Ramsay and Qatar haven't been getting along in the past few years, especially after the sovereign nation decided to impose an alcohol ban in the Pearl Qatar, an exclusive high-end business complex in Doha, in 2011. In return, Gordon closed his Pearl restaurant Maze in 2013, citing a loss in profits from the alcohol ban:
"We had to make sensible commercial decisions – you're not going to run that restaurant and look stupid and lose thousands on a weekly basis… When we look at the legislation with the alcohol ban, I'd much rather see a smoking ban than an alcohol ban."
While the consumption of alcohol is strictly regulated in the Gulf States (for instance, Saudi Arabia and Kuwait ban liquor outright), Qatar's policies have been fairly lenient until recently, when it was announced that all hotels would be prohibited from serving alcohol on beaches and swimming pool areas.
But most importantly — and this is super important for Gordon Ramsay as a soccer fan — what the hell do these tightening booze regulations mean for the 2022 FIFA World Cup in Doha? How will people celebrate their footy without a pint?! "As a nation, Qatar is developing rapidly – but it's a difficult scenario," he remarked. "I'm just trying to imagine an English fan celebrating with a Perrier."
[Arabian Business via Grub Street]
RELATED:
WATCH: Eddie Huang Would Rather Talk to Agenda-less Young Muslims, Here's Why
Alain Ducasse To Open New Restaurant In Qatar
Play The 'Barack Obama Israeli-Palestinian Peace Process Drinking Game'!
Have a tip we should know? [email protected]