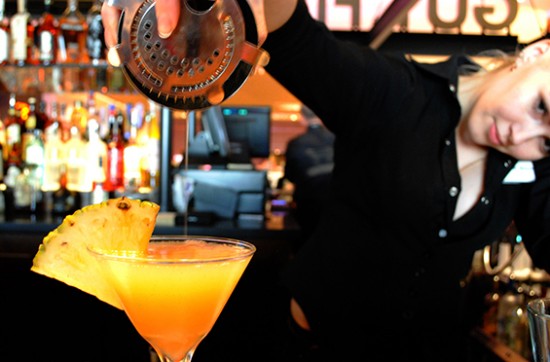 All photos by Adam Robb
A throat-scorching cayenne-maple Monkey Wrench cocktail at Guy Fieri's Chophouse
There's a reason you never spotted mohawks poking from every toque in the kitchen of Marc Forgione's forcibly shuttered American Cut, why no dish on the menu at the Borgata's Bobby Flay Steak is labeled a Throwdown winner. When a restaurant's branding is as overtly glorified as its food, it's too easy to confuse a chef-driven concept with Planet Hollywood. Yet Atlantic City's prosperity now rides on attracting non-gaming tourism, even as Revel, the local church of that faith, goes unattended, so Caesars Entertainment last summer opened Guy Fieri's Chophouse at Bally's Hotel and Casino, where the boardwalk steakhouse has so little to do with its bleached mascot that by the time we dined there, his namesake sunglasses had only once backed out the kitchen's doors.
Unlike its infamous Times Square counterpart, Guy's American Kitchen & Bar, Fieri had no direct input in the design of the Chophouse's unembellished ocean-view dining room, nor the menu's early exorcism of Donkey Sauce. And while the Food Network star's filming schedule legitimately prevented him from visiting the Chophouse once from conception until last November, none of this is his fault. Owned and operated by Caesars Entertainment, the Chophouse circumvents Flavortown the way a newly routed highway bypassed the Bates Motel, leaving visitors with few thrills and only scenery to chew.
Guy Fieri can't affect the hotel hiring a bartender who beamed how she couldn't bring herself to dine anymore at Applebee's after sampling the food here, (if anything the proclamation landed her the job.) And when she delivered a throat-scorching maple-pineapple Bulleit rye Monkey Wrench so overpowered by cayenne it must not have taken no for an answer, she commented that she appreciates how "the cocktails introduce you to each spirit in a delicate way." Would Fieri's execution of the recipes be any more measured, or delivered with greater sincerity?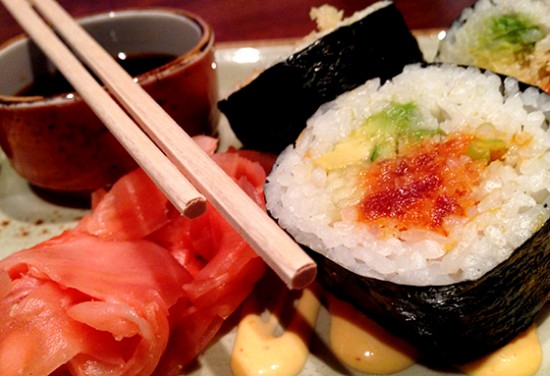 The Spicy Tuna Crunchy Roll only features a smear of its signature ingredient across eight inch-thick pucks.
Only a fishbowl of Not Your 8th Grade Punch, packed with two rums and peach iced tea, stirred feelings of Flavortown, and therein lies the Chophouse's biggest problem. Drinks screamingly fail at the bar, while meals quietly die on the plate. An ambitious, upscale, purposefully unremarkable steakhouse is completely out of sync with Guy Fieri's brand. So why invest in his name when a business is so reluctant to deliver on what he represents?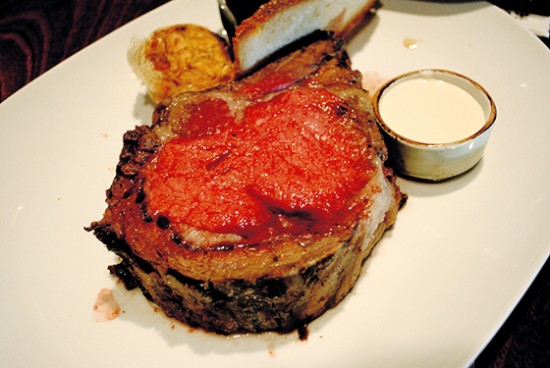 The steaks at Guy Fieri's Chophouse are hefty but flavorless, and significantly more expensive than the LaFrieda cuts at Guy Fieri's Times Square eatery.
At the Chophouse, a sushi roll appetizer as thick and dense as rice cakes arrived merely stained with tuna. However, in Times Square, Fieri's sashimi tacos overflowed with diced fish and mango. Even if they were smothered in enough soy sauce to make the fillers indistinguishable. And wouldn't you be disappointed if they weren't? One dines here for excess, with disregard for the cowardice of common sense, and Guy's American Kitchen & Bar delivers that. In Atlantic City, a $42 horseradish-rubbed prime rib roasted to a deep blush looks a value at nearly 2″ thick, but had all the flavor of a salty wet kiss. In New York, a bone-in Pat LaFrieda strip, buried under a gratuitous-anywhere else film of chipotle cream sauce, can be had for more than $10 less. That's the value of dining at Guy's OG outpost, when the subtle flavor of the fat and crunch of the sear catches you off-guard, it's the platonic ideal of food that can't possibly be better than it looks in a menu photo. This is the steak that will turn you off Applebee's forever.
It's too bad Vegas Fries in New York are a dim bowl of crunchy uniform starches doused in Buffalo sauce. They betray a flavor so addictive we swore they stood buried under more MSG than Penn Station. Worse still, in Atlantic City, creamy fries freshly cut thin and thick are only dusted in Buffalo seasoning, sided with a shot glass of hot sauce and a bowl of Blue-Sabi dip as rich in texture as skim milk, and garnished with crushed Wasabi. Dainty lacquered, frenched Danger Wings, meanwhile, are as dry and chewy as the center of a Blow Pop.
Such flaws are the bane of Giancarlo Generosi, a veteran chef formerly of Chris Scarduzio's steakhouse at the now shuttered Showboat. If Generosi is is ever determined to put his own mark on the Fieri brand, he should be mastering the unique flavors other Fieri venues unabashedly batch out, not work around them. Since The New York Times reviewed Guy Fieri's American Kitchen & Bar nearly two years ago, every diner knows what pleasures and errors to anticipate once they step inside, and it remains one of New York's highest grossing restaurants by delivering on that promise to Fieri's core audience. Generosi only promises to disappoint Fieri diehards.
At least Caesars' executive pastry chef Deborah Pellegrino knows the Times Square menu serves as a template for possibility. The menu continues to serve an improvement on New York's New York cheesecake, studding the soft white wedge with the crunch of pretzels and potato chips. Since removed from the menu, her evolution of rote vanilla fried ice cream featured a cornflake-crusted scoop of Mexican Chocolate set aflame tableside above a pool of cinnamon fudge and toasted marshmallow. It also included the indentation of our waiter's untrimmed fingernail, which embedded itself in the crust as he pressed his back pocket Bic close to scorch the sugared crust.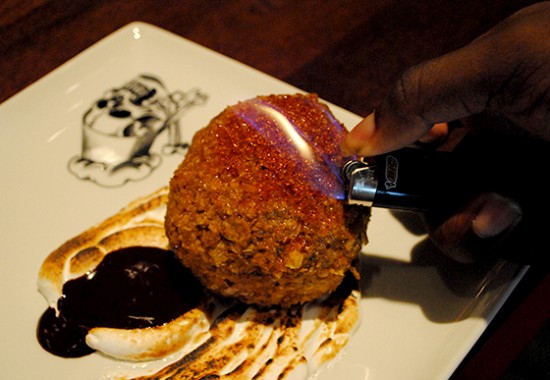 Cornflake-crusted Mexican Chocolate ice cream at Guy Fieri's Chophouse is flambeed tableside with a server's Bic lighter.
That's not a grievous service error, that's enthusiasm. You'll understand the difference once you try to get a table at Guy's American. There, a paralyzed man in a motorized wheelchair entered with the party ahead of us, dragging the lobby's inner doors by his wheel while three unoccupied hosts did nothing to aid him. Proving they don't discriminate, they did nothing to help seat us among the scores of empty tables until we finally interrupted their conversation long enough to ask whether we might seat ourselves at the upstairs bar. They didn't stop us.
If you want a pure Guy Fieri experience, don't let that stop you either.
Have a tip we should know? tips@mediaite.com