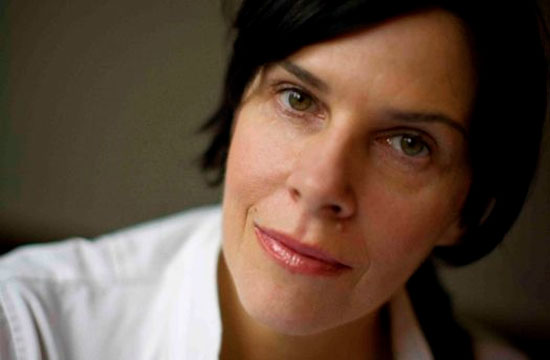 Welcome to Lady Chef Stampede, Amanda Cohen's series about the world's most influential Lady Chefs! Click here to read her Q & A with us about the column, or read on to learn more about this week's Lady Chef…
This week, we're talking about Boston's Barbara Lynch because Boston is hot. Ben Affleck makes movies there! The Heat takes place there! Whitey Bulger! The accents are funny! [Ed. note: Word.] When you read about Barbara Lynch, a lot of what you read about is her rough background, which is colorful: Lynch went from South Boston's housing projects to owning a restaurant group with six restaurants, a catering company, a bar, and a store, so I'm not going to focus on it too much. She's done a lot more than just be from a tough neighborhood. But still! She once stole a city bus!
Born in a South Boston housing project, Lynch's dad was a cab driver who died of a heart attack one month before she was born. Her mother was left to raise their large family on her own, and eventually started working as a server at the posh St. Botolph Club, where Lynch worked after school. She describes it, saying, "…the chef there was an Escoffier chef who made sweetbreads under a bell, put together the most elegant white-glove dining, and he was making people happy by cooking. I knew then that was what I wanted to do."
In the meantime, she was going to school during forced busing, a rowdy time in South Boston, running bets for her teachers to bookies in her neighborhood (and often stealing the money), and dealing drugs on the side. Her home economics teacher saw something in her and gave her a lot of personal attention, but when she found out her senior year that she would have to go to summer school in order to graduate, she dropped out.
For six years she worked at a food warehouse, loading trucks with cases of tuna and dry goods, but eventually realized she had to get out of there, and she and a friend went to Martha's Vineyard to work in restaurants. One of her first executive kitchen jobs came about when she lied her way into working as the assistant to the chef on a dinner cruise, claiming to be from Boston and capable of making exceptional chowder, a recipe she had to look up in the library afterwards. When her boss quit three days before the job started the owner of the cruise promoted Lynch to executive chef.
Scoring an interview with Todd English, during which she told him the location of his new restaurant was "stupid," she started working at Michela's and then followed English to Olives, where she worked for eight years, followed by opening Figs for him. Two years later, she angered English when she left to take a job at another restaurant as executive chef. By the time she turned 34, however, Lynch realized she wanted to be her own boss.
A friend helped her with the business plan, and Lynch managed to raise money from several investors, most notably Arnold Hiatt, president of the Stride Rite Corporation. Vowing to pay back her investors in three years (and vowing to pay the IRS $70,000 in back taxes), Lynch refused to take a salary until she paid everyone off. Newly married, this made for three lean years. But her restaurant, No. 9 Park, opened in 1998 and was named one of the best 25 restaurants in America by Bon Appétit. Four years later, she opened an oyster bar, and after signing the lease she noticed that there was an empty retail space across the street. Realizing it would be just as horrifying to build two restaurants as one, she took it over, too. Since then, she's started a catering company, a high-end bar, a retail store that sells cookbooks and kitchen supplies, and four more restaurants to make a grand total of six.
That's not to say it's been easy. From the beginning, Lynch says she felt way out of her depth with the business aspects of owning a restaurant.
"When I started, I had a general manager and a business manager, both men, and they would sit down, go over the profit-and-loss statements every month, and I had a hard time understanding those P.& L.'s. They made me feel, "Oh you're just a chef from the projects. You don't know anything." But after a while, I felt something wasn't right. I realized I had to learn the business side, too…"
Vowing to learn more about the business, she tightened up her business fu, and now she's an incredibly sharp businesswoman. She even knows the lament of the restaurant owner, which is that the landlords always win and she says that her one regret is not owning any of the buildings her restaurants are in, so she has to deal with nine separate leases.
There is also no better teacher than failure. In 2006 she opened Plum Produce, a produce store selling high-end vegetables in South Boston, catering to its new influx of yuppies. Lynch referred to it as the "Clinique of farm stands" but she didn't realize these residents didn't want to cook, and her store closed in 2010. She has also struggled with her high-end restaurant, Menton, which she opened in 2010 and which, in a 2012 interview, she called, "…my toughest challenge, and I'm still tweaking the formula." That's despite being named one of the best new restaurants in both Bon Appétit and Esquire in 2010, getting a four star review from the Boston Globe, and receiving AAA's Five Diamond Award.
Nothing's guaranteed in this business, but you can be smart about it. When Lynch was building Menton, she realized that she needed it to win awards because it was a fancy restaurant in a failing economy, so it had to be more decorated than Miami Beach McMansion at Christmas time. One of the most exclusive awards in cooking is Grand Chef Relais & Châteaux,  given to just two chefs each year by the French luxury association, Relais & Châteaux. There are only 19 chefs in America who have received this title, and Lynch aimed for it from the moment she started building Menton (she talks about it in this interview). She landed the title in early 2012, becoming the only restaurant in Boston history, and the first female chef in America, to receive it. (Back in March of this year, Lynch promoted the chef from her demonstration kitchen, Kristen Kish, to executive chef at Menton. A savvy move, seeing that Kish won Season 10 of Top Chef, making her a TV celebrity. Honestly, that helps.)
For the moment, with nine different businesses under her belt, Lynch claims she's not opening anything else, but then she gives interviews and starts to talk about a food lab, and maybe a manufacturing business, and maybe just one more restaurant.
PREVIOUSLY: Patricia Quintana, Rosa Lewis, Madeleine Kamman, Leslie Resvin,  Chefs of the 1990s, Li Li, Sylvia Woods, Rosita Guerrero, Josefina Velazquez, Mary Vereen Huguenin, Female Sushi Chefs, Dione Lucas, Elena Arzak
Have a tip we should know? tips@mediaite.com