Last Call: British Teen Has Stomach Removed After Liquid Nitrogen Mixology Mistake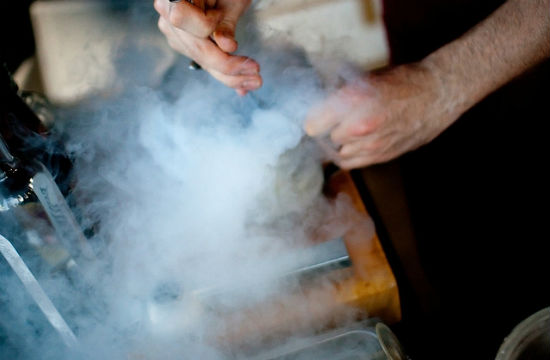 Huffington Post: Molecular mixology can go horribly awry. Just ask the 18 year old British girl who had to have her stomach removed after drinking a Jager cocktail with liquid nitrogen in it perforated her stomach wall.
Obama Foodorama: Wolfgang Puck catered yet another fabulously expensive Obama fundraiser dinner attended by George Clooney; the world spun madly on.
The Guardian: John Crace of The Guardian distilled Nigella Lawson's latest tome Nigellissima into a digestible 400 words. Care for a saucy excerpt? Of course you do. Writes Crace in authorial Nigella drag: "I really would take a walk-in larder over a walk-in wardrobe any day, though luckily I don't have to choose as I've got several of both — and then allow the cameras to get close up to my voluptuous breasts for at least 30 seconds. Now shut your eyes and you could almost be an extra in La Dolce Vita. Toss, yes toss, the squid and courgettes — somehow zucchini just doesn't seem right — in one of your 40 or so pans, add two bottles of masala while helping yourself to several generous glasses of prosecco before keeling over in your flower-filled garden in this green and pleasant land."
Daily Mail: Oh let's rip open that Oliver vs. Ramsay wound again, shall we, Jamie? Says The Naked Chef of refusing to speak about his Shouty British counterpart in the newspapers (while speaking about him to a newspaper), "Gordon does such a good job of making trouble for himself. Also, he's got a really nice wife and kids and I wouldn't want them to read something I said." Jamie's own children, Poppy, Daisy, Petal, and Buddy, however, would never be the source of any jokes at all.
The Guardian: The Bowes Museum in England has published a cookbook to match its latest exhibition, Feast for the Eyes: The Fashion of Food. The exhibit features various food paintings from such museums as The Tate and The National Gallery, each with a recipe to match. Damien Hirst's shark tank is not on display with shark fin soup, as far as we know.
The Real Deal: Jean-Georges Vongerichten is suing his developer for failing to fork over the $400,000 he promised to pay if JGV's restaurant company terminated their lease at a space in Tribeca. Boys, boys, can't we settle this over some leek fried rice?
Have a tip we should know? tips@mediaite.com