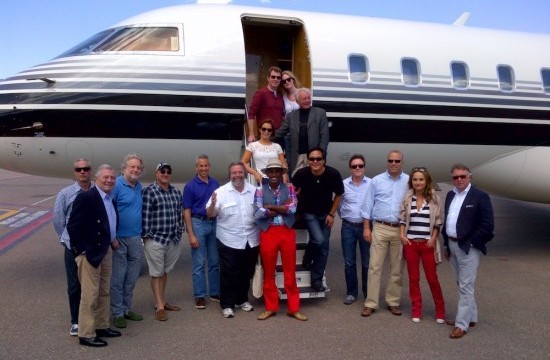 Eater: In case you were wondering what a private plane filled with celebrity chefs looked like, this would be it. They're all headed to Aspen for the Food and Wine Classic while the rest of us stew with jealousy over all of the foodie fun we're missing. Wonder if Giada de Laurentiis and Marcus Samuelsson purposely coordinated their pants?
The Daily Meal: Los Angeles Kings captain Dustin Brown served his sons chocolate milk straight out of the Stanley Cup. Finally, chocolate milk the way we were meant to drink it: out of a giant, silver trophy using bendy straws. Those two look like the happiest kids in the world.
The Daily Mail: A serial diner-and-dasher who had been banned from every restaurant in the UK was sentenced for violation of his parole after ordering a £51.52 meal at Michael Caines' restaurant at the Royal Clarence Hotel. He reportedly told police that he "wanted to have a good meal" being heading back into custody. Who can blame him? It's hard in jail for a foodie.
CBS: Last night on The Late Show, David Letterman used his Top Ten List to poke fun at Mitt Romney's struggle to identify a doughnut. How doughnuts haven't been called "perforated strudel orbs" all this time remains a mystery.
Grub Street: Jay Z plans to open a new location of his 40/40 Club in Brooklyn. Specifically, in the Brooklyn Barclays Center the future home of the New Jersey Brooklyn Nets. Says Jay, "The 40/40 Club has revolutionized restaurants in a way I anticipate Barclays Center to transform the arena watching experience." So… not at all, then.
Huffington Post: Good news for readers trying to quit smoking and increase their fiber intake — a study found that certain common vegetables can contain nicotine. The downside? It's only trace amounts. You'd need to consume 20 pounds of eggplant in order to get the effect of one cigarette. And, oh yeah, the study was published in 1993. The picture of timely reporting, right there.
Have a tip we should know? tips@mediaite.com