Obamas Go To Michael Mina Restaurant For Awkwardly Delayed Anniversary Dinner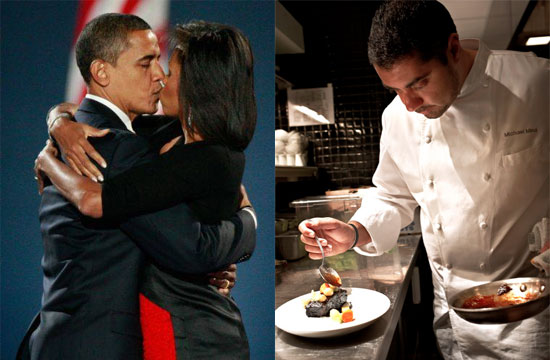 It's a problem couples everywhere face: you spent the night of your 20th wedding anniversary being verbally pummeled and humiliated in front of the entire nation by an opponent that everyone thought was a rich, awkward Pinocchio. Fine, it's only a problem that Presidents face. (This is why people should not be President.) Regardless, if you're President Barack Obama, and you can't turn into an invisible chair, how do you prove to your wife that you're a worthy man?
According to Obama Foodorama, you take her to Michael Mina's steakhouse in Georgetown and feed her the finest of steaks. On Saturday, Barack and Michelle Obama booked a private room at DC's Bourbon Steak, one of many owned by the celebrity chef/Michelle Branch bestie, and dined for two hours.
Adam Sobel, the executive chef at Bourbon Steak, offered the Obamas a special tasting menu (since deleted from his Twitter) that included highfalutin' item menus like blinis with Osetra caviar and seared diver scallops with uni butter, but they opted to go a la carte. He unfortunately wasn't allowed to say what they actually had for dinner due to security reasons. (This indicates that he served them a roasted baby panda, which is both a political statement against the creep of Chinese influence in the Eastern hemisphere AND an aphrodisiac. Bowm chicka wowm.)
Whatever they ate, we hope that it saved the Obama's marriage. Losing a debate so badly that even Chris Matthews wants to kill you would be a huge dealbreaker for most wives. Thank you, Michael Mina. Thank you for not turning the Obamas into another divorce statistic.
Have a tip we should know? tips@mediaite.com