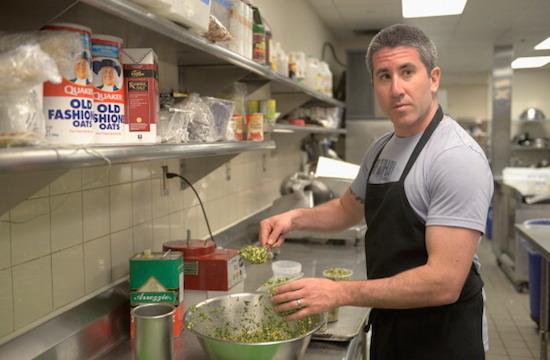 "Nobody expects somebody like me to be a recovering crackhead … I felt I was holding back."
That's the word from Philadelphia chef Michael Solomonov, who revealed to the New York Times' Frank Bruni that he is a recovering crack addict. On the cusp of opening two restaurants and a PBS documentary of his love for Israeli food, Solomonov told Bruni his whole story of his addiction — and it's a doozy of a story.
Much of Solomonov's sordid past relates back to the 2003 death of his brother, David Solomonov. The crisis in Israel and Palestine is all too real from the account of Solomonov's brother's death:
It has an added pathos right now, because the violence in Israel echoes a personal heartbreak that fed his addiction, the worst of which followed the death of his younger brother, David, in 2003, at the age of 21. He was killed by sniper fire on the border with Lebanon while he served in the Israeli army. He was just three days shy of the end of his military commitment. …

For a while [Michael Solomonov] straightened up. Buckled down. Learned to cook, graduating from a bakery near Tel Aviv to culinary school in Florida to work in Philadelphia. He had a job at the venerated Italian restaurant Vetri when he got the news about David. The call came as he drove a family car, a green Hyundai Accent, from Pittsburgh back to Philadelphia so that David, who was about to move to the United States, could claim it.
Within months of opening his first restaurant, Zahav, his wife and business partner took him to rehab, where he got clean. Why to tell the story now? Despite some very convenient timing of such an article, Bruni writes, "He doesn't want to lie about these things. He wants to hold himself to full account." You actually do get the sense from Bruni's column that this is hardly a publicity stunt — this is a hit of a reset button.
RELATED: What Can We Learn From #HummusSelfies? Not Much
Have a tip we should know? tips@mediaite.com