7 States Resume Buying 'Pink Slime' for School Lunches, Point to Budget Cuts, Nutritional Standards as Culprit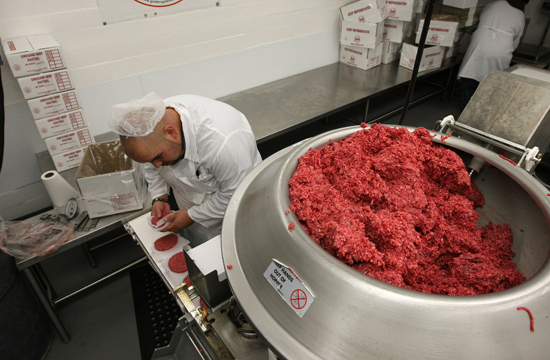 Despite a concerted political and public push to get lean finely textured beef — an ammonia-treated, mechanically-separated meat product Jamie Oliver famously dubbed "pink slime" — out of school lunches, four states have quietly resumed buying the controversial meat product and plan on serving it in school lunches this year, POLITICO has found.
(A quick primer on pink slime: it's made by separating meat scraps from formerly inedible cattle carcasses and treating them with ammonia to kill bacteria. Even better, it's an efficient way of getting extra meat from scraps "once deemed too fatty to go into human food." Thanks, science.)
While after last year's Summer of Finely Textured Beef prompted all but three states in the US to stop ordering the product, educational budget cuts and new nationwide nutritional standards have forced four more states to resume buying beef products with "pink slime" as a beef filler, a move that can cut up to 3% from the cost of ground beef — "which can add up quickly in a program that feeds more than 31 million school children each day," POLITICO notes.
This year, Illinois, Pennsylvania, Virginia and Texas joined Iowa, Nebraska and South Dakota in buying products with "pink slime," placing orders for about 2 million pounds of beef that might contain lean finely textured beef. But hey, at least they knowingly ordered the product this time — a huge improvement over last spring, where unenforced labeling practices left people unaware they were eating ammonia meat goop:
Mark Bishop, the vice president of policy for the Healthy Schools Campaign, said he is confident lean finely textured beef will stay out of Illinois' largest school district: Chicago Public Schools.

"They've taken the position that they're not going to buy meat treated with ammonia and they've followed through on that," Bishop said. "This issue is really about labeling more than it is about nutrition. Whether in our homes or in our schools, we want to make informed choices. We want to know what's in our food."

But Bryan Black, a spokesman for the Texas Department of Agriculture, told POLITICO his state has not changed its policy on lean finely textured beef in school lunches. "It has always remained the same, it's a local decision. Schools have the option to request the type of beef they want to serve and USDA fulfills those orders," Black said.
It's ba-aaaaaack.
[POLITICO]
RELATED:
Michelle Obama's School Lunch Plan Overhauled To Include More Meats And Grains
Prestigious MAD Symposium Invites Ten-Year-Old Blogger Martha Payne As A Speaker
NYC Claims Program That Puts Professional Chefs In School Cafeterias Doesn't Meet Health Standards
Have a tip we should know? tips@mediaite.com