Watch All the Trailers for Tribeca Film Festival Food Docs, Where to Taste Them After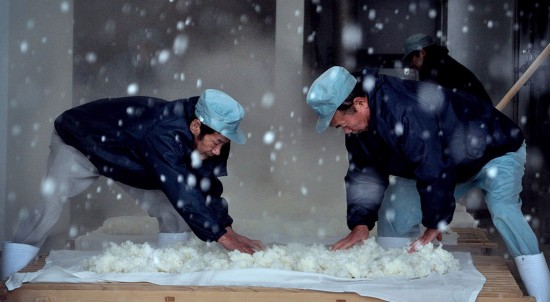 It's not too late to see three deliciously stunning food documentaries premiering at this year's Tribeca Film Festival, from The Birth of Saké, telling the story of the family-owned and hand-crafted Tedorigawa label, Chef's Table, which debuts this Saturday with a talk hosted by Blue Hill chef Dan Barber (and at home on Netflix,) and Steak Revolution, following a global pursuit for the world's most coveted cuts of beef. And if you're wondering where to experience the flavor of every film, watch the trailers below then read where to sample a taste in New York City once your popcorn runs out.

Get tickets for The Birth of Sake this weekend in Battery Park or Chelsea, then pick up a bottle of the 144 year-old brewery's dry and creamy Tedorigawa Yamahai Daijingo from Astor Wines.
Steak Revolution follows France's most famous butcher, Yves-Marie Le Bourdonnec, on a worldwide journey from Argentina to Japan to discover the world's finest beef (which, SPOILER ALERT, turn out to be grass-fed and most definitely not French,) so try the mouth-melting Wagyu from East Village butcher shop Japan Premium Beef on Great Jones Street.
After you've taken your steaks and sake home, make your table a chef's table then take in Chef's Table, which premieres this Saturday on Netflix and  The six-part documentary series follows the lives of the world's most renowned cooks from Blue Hill's Dan Barber to Osteria Francescana's Massimo Bottura. If your dinner didn't come out as well as theirs do, you can still catch Ruth Reichl interviewing Dan Barber and executive producer David Gelb this Saturday night, to ask what you're doing wrong.
Have a tip we should know? tips@mediaite.com