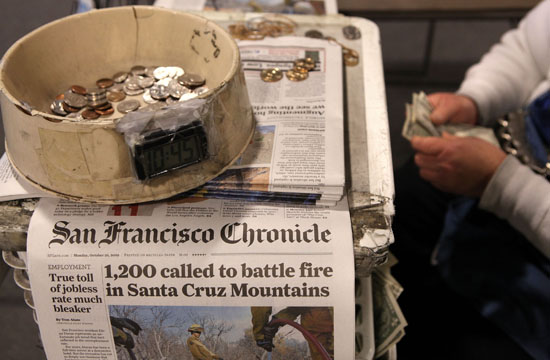 We know it's premature to declare that a media war has broken out between the New York Times and the San Francisco Chronicle, but after the Times reported yesterday that the Chronicle's legendary food section would fold, the Chronicle fired back that reports of the food section's death were greatly exaggerated.
According to the Times, which spoke to anonymous staff members at the Chronicle, the Bay Area paper would be closing down its stand-alone food section in February and folding it into a lifestyle vertical with the name "Artisan".
According to the Chronicle's managing editor Audrey Cooper, they're not doing that — they're actually investing more money in their food section, though they haven't decided exactly how they're going to do that yet — and the Times is just jelly:
It's impossible to separate food, restaurants and the culture of farm-to-table living from the San Francisco experience.

For decades, these issues have formed a pillar of the San Francisco Chronicle's news coverage. It's a Chronicle tradition and, most importantly, good journalism. We wouldn't be San Francisco without it.

That's why the newsroom has been studying several ways to build on the foundation created by our award-winning staff. We're disappointed by recent inaccurate reports in the New York Times, which has attempted to compete with us in this arena.
The Times then ran an update, noting that they'd been marked by the Chronicle as "a competitor in food and wine coverage."
This can only mean one thing, everyone: PASSIVE-AGGRESSIVE NEWSPAPER FOOD SECTION WAR. Man, we haven't seen one of these since, well…ever. We thought we'd never see one, what with print dying and everything.
RELATED:
We're Screwed: Sam Sifton Gets Promoted, Will Launch New NYT Dining News Site
Old and New NYT Restaurant Critics Converge for One Epic Conversation at NYCWFF
Last Call: 300 Sandwiches Lady Gets a Book Deal, While SF Chronicle Food Section Folds
Have a tip we should know? [email protected]