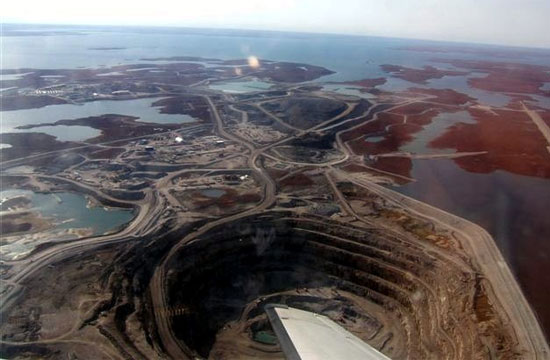 You thought you could escape, didn't you? You thought that somewhere in this mad world, there had to be one place where the Cronut — the croissant/donut Frankenstein created by  Dominique Ansel — had not unleashed its buttery pastry flakes. But much like Frankenstein's monster was eventually discovered lumbering around the Arctic circle, so, too, has the Cronut.
Curse you (or thank you?), Sarah Allman, pastry chef at the remote Diavik Diamond Mine, located in Canada a mere 200 kilometers from the Arctic Circle. Her job is to bake thousands of pastries a day to feed thousands of miners, and since they're in the freaking middle of nowhere, she needs to continuously come up with new treats to prevent everyone from succumbing to Arctic madness.
"The BEST part about my job though, it's like having my very own test kitchen," she told Huffington Post's Food Informants. "I get to decide what I bake and I have fun trying out new stuff all the time. I am hell bent on making the New York craze 'cronuts' and my popcorn chocolate chips cookies are always appreciated by all."
While seeing her ingenuity at work in such a remote location is super cool, we fear the power of the Cronut and what it has done to thousands of pastry obsessives. Learn from us, if not by our precepts, at least by our example, how dangerous is the acquirement of Cronuts, and how much happier that man is who believes his croissants and donuts to remain separate, than he who aspires to turn two pastries into one that nature will not allow.
RELATED:
Eric Ripert Live-Tweeted Himself Eating A Cronut; In Other News, Life Is Not Fair
Dominique 'Cronut Lord' Ansel Looking For New Pastry Chef For SoHo Location
Not Even The Director Of The James Beard House Can Get Cronuts
Have a tip we should know? tips@mediaite.com