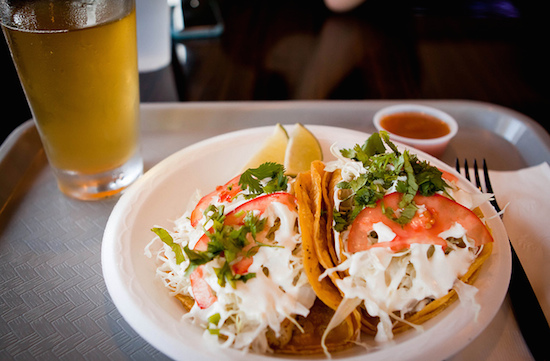 What began as a Twitter joke is slowly turning into another social media campaign, this time aiming to give low-income families access to abortions. Will it catch one the same way as the ALS ice bucket challenge?
It began with reporter Andrea Grimes, whose joke on Twitter turned into a full-fledged campaign. So far, the #TacoOrBeerChallenge has earned 127 entries on Tumblr, and hundreds of Tweets so far. While it started in Texas, it's quickly moved to the West Coast and Midwest.
Here's what Grimes said to the Dallas Observer:
[The ALS ice bucket challenge] left feminist, journalist and former Observer staffer Andrea Grimes, now a senior political reporter at RH Reality Check, a little confused. "After watching the ice bucket challenge, I kept seeing videos that never mentioned ALS and asking people about it who didn't know why ice buckets were a thing," she said via email. Then, she decided to spin off the idea to raise money for a cause that is close to her heart, abortion funding — with one major twist.

"Why not give people something awesome to do instead of something really unpleasant to do, and why not tie it to a cause that is, sadly, unfairly maligned and stigmatized," said Grimes. "The 'challenge' of the taco or beer challenge really is solely the 'donate to an abortion fund' part, because eating tacos and drinking beers is easy. Overcoming the culturally imposed stigma that surrounds legal abortion care, however, is terribly difficult."
(•_•)
<) )╯TACOS
/ \

\(•_•)
( (> BEER
/ \

(•_•)
<) )> ABORTIONS

— Andrea Grimes (@andreagrimes) August 22, 2014
That's our girl.
The real sticking point of the campaign is to donate to abortion funds, so that women in all economic circumstances can afford an abortion. But Grimes also hopes to erase some of the stigma for those seeking abortions, she writes on RH Reality Check. "There's nothing shameful about having an abortion, and nothing shameful about funding abortion," she writes. "It's so not-shameful, in fact, that you can be the kind of regular ol' human being who eats a taco or drinks a beer and funds abortion."
It's picking up lots of traction so far.
Took the #TacoOrBeerChallenge. (Subbed a taquito.) More info at http://t.co/hglPymnWPk https://t.co/hJKObTZy7M

— dolly moehrle (@loather) August 27, 2014
Still recovering from the green chile explosion. Donated to http://t.co/IGHZDYFuEW #TacoOrBeerChallenge https://t.co/KhynFJVSST

— Stacy Konkiel (@skonkiel) August 27, 2014
Tofu Tuesday at #Carrburritos for the #TacoOrBeerChallenge. @IpasOrg is based in Chapel Hill <– just found that out! pic.twitter.com/9KecsqzBhV

— Karen Mc (@agentscarlet) August 26, 2014
Yes, there was a dancing taco. Video forthcoming. #TacoOrBeerChallenge #Bravemobile pic.twitter.com/xe0EeYqBh6

— Stacey Burns (@WentRogue) August 26, 2014
Even the President of Planned Parenthood is getting in on the fun.
"The directive is simple: Eat a taco or drink a beer, then donate to any abortion rights fund." http://t.co/d5jbtyUbdw #TacoOrBeerChallenge

— Cecile Richards (@CecileRichards) August 25, 2014
And Dan Savage.
We took the #TacoOrBeerChallenge challenge – we nominate @margaretcho, @MarthaPlimpton & @lenadunham to go next. xo pic.twitter.com/WUIVhISlZI

— Dan Savage (@fakedansavage) August 23, 2014
Surprisingly to us, no anti-choice crazies have picked up on this campaign just yet to tear it apart. (We don't know what foods go best with being anti-choice… unfun foods, we guess? How could anyone just not love a taco and a beer?) Time will tell whether the #TacoOrBeerChallenge has a glimpse of the same staying power as the ALS ice bucket challenge.
The #TacoOrBeerChallenge sounds like the best thing ever. Because no one can argue against tacos, beer, or healthy reproduction options.

— elin neugebauer (@mnheartmom) August 26, 2014
[Dallas Observer, Tumblr, Twitter, RH Reality Check]
RELATED: Justin Warner Schooled Everyone's Ice Bucket Challenge with Gowanus Water, Dry Ice and Rotten Fish
Stephanie Izard's Ice Bucket Challenge Includes 'Flashdance' Rendition, and She Kills It
Have a tip we should know? tips@mediaite.com