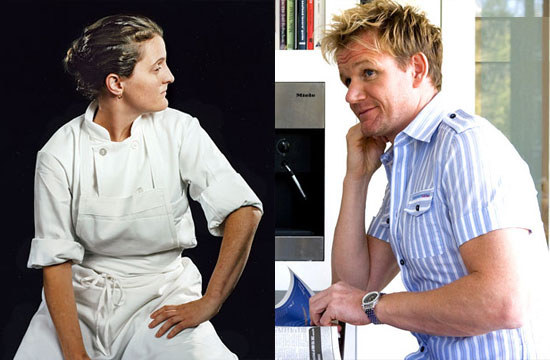 April Bloomfield is very successful. April Bloomfield has many prominent restaurants, multiple television appearances, book deals, photos of her goofing around with Fergus Henderson, and even Mario Batali and Jay-Z as investors in her concepts. (She's the hottest chick in the game, wearin' his chain.) And like all successful people, Bloomfield is ready to expand her restaurants outside of New York by taking her flagship, The Spotted Pig, to London.
But there's one teensy little problem: Gordon Ramsay got there first.
Not that he had a restaurant in the UK named The Spotted Pig or anything, but Bloomberg reports that Gordon Ramsay Holdings filed to trademark the name "Spotted Pig" back in October, coincidentally around the same time that Bloomfield and her business partner Ken Friedman mentioned that they wanted to open a restaurant in London.
"Ken and I talk about it all the time," she said then. "I don't know if it would be like the Pig."
And now it might not be anything like the Pig at all, if Ramsay has his way. A spokeswoman told The Sunday Mail that the dubiously-timed trademark application was a completely normal thing, and that they should get their heads checked: "[the company] regularly seeks trademarks and there were no current plans beyond that."
This would be a good time to bring up the fact that Ramsay has a feud with Batali, wouldn't it? And we're pretty sure that, given the chance, he'd have a feud with Jay-Z as well, though now we're trying to think of how many words rhyme with "you donkey."
[Bloomberg via Grub Street]
Have a tip we should know? tips@mediaite.com