Four Steven Crowder Staffers Exit Show After Interrogations and 'Insane' NDAs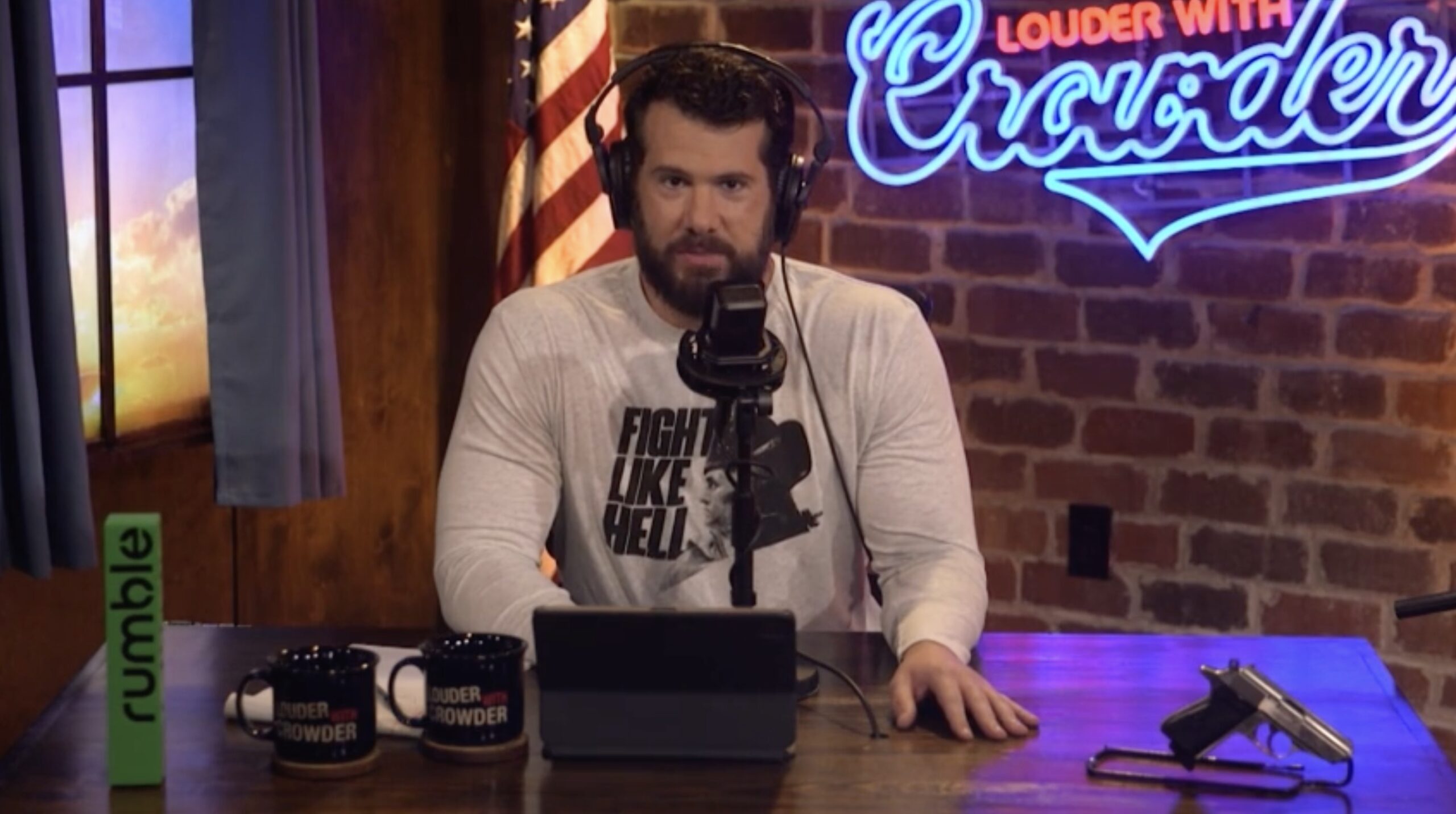 Steven Crowder sent draconian non-disclosure agreements to his staff with a $100,000 breach of contract penalty after Mediaite reported on allegations of workplace misconduct at the right-wing commentator's Rumble show, five current and former staffers said.
Last month, Mediaite reported on allegations of bullying, inappropriate drug use, and lewd sexual workplace misconduct at Louder with Crowder, the popular online show that recently joined Rumble, a YouTube-alternative.
Two hours after Mediaite published a follow-up report detailing an internal staff meeting at Louder with Crowder held in response to the initial story, in which CEO Gerald Morgan told staffers they could no longer communicate with former employees, NDAs were sent out.
The agreements, which were reviewed by Mediaite, were emailed to current Louder with Crowder employees on July 26 and read in part, "Employee maintains its promises and covenants not to disclose Confidential Information as defined in the Amendment, Company will provide Employee with Confidential Information during the period in which Employee is employed by the company."
The agreement added that if a breach of contract should occur the employee would be "liable to the Company for liquidated damages in the amount of $100,000.00."
"I hereby acknowledge that said damages are reasonable, do not constitute a penalty, and I further agree that I will not contest the reasonableness of said liquidated damages in any such action commenced by either party with respect to this Amendment," the agreement stated.
The staffers were told they had to sign the NDA by that Friday. On July 27, Crowder held a meeting in which he warned staff against speaking out.
"Steven was livid," a source close to the Rumble host told Mediaite. "He and Gerald [Morgan] said they knew someone was talking to you [the author of this piece] based on the article you wrote. They said whoever text messaged former employees about us not being able to hang out with them would be given amnesty if we confessed by 2 p.m. If no one confessed, then they would see it as malice. No one confessed so they started interrogating a few people."
During the meeting, Crowder downplayed his sexual misconduct allegations, said another source close to the soon-to-be divorced father of two.
"If you're not okay with guys playing sack tap then this isn't the place for you," the source said Crowder told staff, referring to the act of tapping another person's genitals.
After the "interrogation" of current staffers, four employees departed the company.
"The NDA was insane," said the source close to Crowder. "Most employees were scared because of it. Some talked to lawyers about it because they were afraid, but thought if they didn't sign that would incriminate themselves. He was intimidating. Steven's increasing justification of his workplace sexual behavior between men makes a lot of male employees uncomfortable. He always says it's joking but it doesn't seem like a joke to anyone anymore."
A former Louder with Crowder employee said the NDA and bullying tactics are a clear sign that the toxic workplace culture will not be cleaned up any time soon.
"The real problems never get fixed because the real studio problems revolve around Crowder's refusal to take responsibility," they said. "He is never ever to blame. Gerald and Steven intimidate and bully the staff. They try to divide and conquer. They treat former employees like people who've left their cult and can no longer be trusted and current employees are commanded not to associate with those former employees."
They compared Louder with Crowder to "how Scientologists aren't allowed to associate with people who've left the Church. How corrupt or clueless do you have to be to respond to reports of employee abuse by turning around and threatening employees with a $100k fine?"
The NDA kerfuffle has caused further turmoil among Crowder's staff, and a new hiring announcement the same week added more fuel on the internal issues. Michael Spadone, a former field director at Project Veritas who was accused of kissing and groping a former colleague in a since-settled lawsuit, has been brought on the Louder with Crowder team. Sources close to Crowder saw it as a questionable hiring decision due to the recent claims against Spadone.
"This whole situation is obviously extremely concerning for the women who work in the studio. Steven's sexual habits and behavior at work are troublesome enough, but to find out a man alleged of sexual assault has been hired by Steven the same week you're handed a fresh NDA with a $100,000 penalty would leave anyone scared," an ex-staffer lamented.
Crowder did not respond to requests for comment.
Have a tip we should know? tips@mediaite.com