SHOCK POLL: Republican Support for Trump 2024 Plummets By a WHOPPING 20 POINTS Since December
Support for a 2024 run by former President Donald Trump has cratered by 20 points since December, in a stunning poll that illustrates the political bind many Republicans find themselves in.
The new survey from Echelon Insights found that only 45 percent of Republicans would "like to see Donald Trump run for president in 2024," down from 65 percent in December.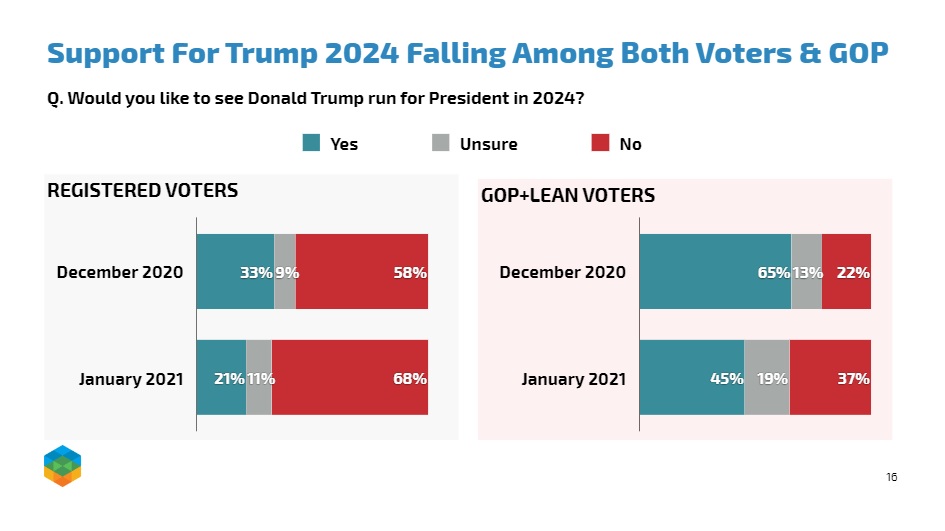 The poll also found solid majority support for Trump's impeachment and removal, and slightly higher support for banning him from ever running for federal office again — an action that can only be taken if Trump is convicted by the Senate.
Overall, 57 percent of voters want to ban Trump for life (versus 53 percent who want him convicted in the Senate), while 30 percent of Republicans say the same. Only 21 percent of Republicans want him convicted in the Senate.
Republicans are more in favor of barring? Trump from holding public office in the future than impeaching and convicting him through the Senate – just 21% support the latter, while 30% are in favor of the former. pic.twitter.com/1Mi4WbZIOp

— Echelon Insights (@EchelonInsights) February 2, 2021
While not apples-to-apples, that result marks a sharp increase for banning Trump from several weeks ago, when Morning Consult found that 1 in 5 Republicans favored that action. And it's a remarkable stat for a president who left office tied for the highest approval rating among Republicans in the history of the Gallup poll, at 88 percent.
The poll also found Trump still leading the 2024 GOP primary race by 7 points against a generic field, but losing by 15 points among college-educated Republicans. Without Trump in the field, former VP Mike Pence leads every other named candidate — but trails "unsure" by nine points.
If Trump were not to run in the 2024 primaries, Pence would be the favorite? with 21% supporting the former VP. Donald Trump Jr. and Nikki Haley are close behind with 10% and 9% of the vote, respectively. pic.twitter.com/N1q52zjYNa

— Echelon Insights (@EchelonInsights) February 2, 2021
The results underscore a the degree to which the Capitol insurrection has shaken Trump's support among Republicans, but also the durability of his most loyal support.
Have a tip we should know? tips@mediaite.com