Trump Privately Approved GA Gov's Reopening Plan Before Publicly Claiming He Disagreed With It: Report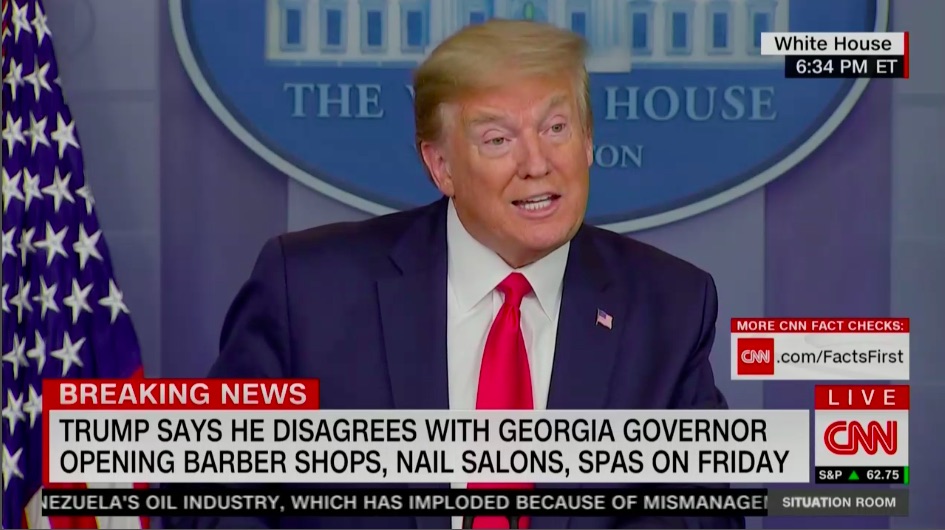 The president privately approved of the Georgia governor's plan to reopen his state's businesses just days before calling out the governor for violating the federal government's phase one rules and saying he had expressed opposition to the state's move at a White House briefing.
This contradiction between President Donald Trump's behind-the-scenes acquiescence to restarting the Georgia economy and his public attempts to distance himself from it come via reporting the Associated Press.
Trump, at Wednesday's coronavirus briefing, had notably stated that he disagreed "strongly" with Georgia Governor Brian Kemp's widely-criticized and publicly mocked plan, which would allow businesses like barbershops and massage therapists to reopen, while still expecting them to practice social distancing. However, the president refused to enforce his administration's own guidelines at the briefing and merely said that Kemp had "to do what he thinks is right." Trump added during that moment that he had relayed his displeasure at Kemp's plan in an earlier phone call.
But per the AP, both Trump and Vice President Mike Pence, in separate conversations, had already given the go ahead for Kemp to pursue his phased-in effort to reopen some of his state's businesses, before the governor announced it on Monday. It was only after the administration's top health advisers persuaded the president that the Georgia rollout presented significant risks that Trump decided to flip-flop and come out against it in principle.
"The extraordinary reversal — and public criticism of a GOP ally — is only the latest in a series of contradictory and confusing messages from the president on how and when he believes governors should ease stay-at-home orders intended to stop the spread of the deadly virus," the AP wrote. "It demonstrates the political risk for governors in following the unpredictable president's guidance."
Have a tip we should know? [email protected]