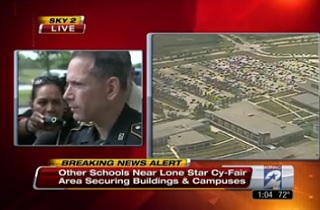 In an incident that's still unfolding, Harris County authorities tell Houston's KPRC that 14 people have been injured in a mass stabbing that is being described as random. Initial reports were that two suspects were at large on the CyFair campus of Lone Star College, but according to Harris County Sheriff's Deputy Thomas Gilliland, authorities now believe that a single suspect, who is in custody, was the only perpetrator. The status of the injured is not known at this point, but four of the victims were injured seriously enough to be airlifted to the hospital, while eight were taken by ground ambulance.
Although the college warned of two suspects at large earlier Tuesday, Gilliland told reporters that "we have one suspect in custody. As far as we know, he is the only suspect at this point," and added that "what I believe now it was the same person running from building to building."
He was unable to discuss a motive, or confirm the weapon, but said that "some reports said it was a pencil, some reports, a knife."
Witnesses also told a KPRC reporter that the assailant had a "box opener, or something."
Gilliland also said he wasn't sure, but "I heard students tackled him, and I don't know the student that started all of this."
The school is currently in lockdown.
In January, Lone Star College's North Harris campus was the site of a shootout that resulted in 3 injuries, and no fatalities.
On December 14, 2012, the same day as the horrific shooting in Newtown, Connecticut that killed 26 people, a mass-stabbing in China wounded 23 children and one adult, but resulted in no fatalities.
Here's video of the Harris County Sheriff's Deputy Thomas Gilliland's briefing with reporters, from KPRC:
Follow Tommy Christopher (@TommyXtopher) on Twitter.
Have a tip we should know? [email protected]