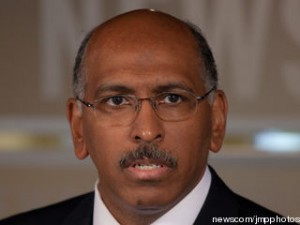 Thomas Shultz says it's time for a change at the Republican National Committee. A 22-year-old student at Brigham Young University in Utah and the brother of Iowa's Secretary of State-elect, Shultz plans to use the power of the grassroots to topple RNC chair Michael Steele, who has touted a connection to grassroots as a cornerstone of his tenure at the top of the committee.
On Monday, Shultz launched ReplaceMichaelSteele.com, an online petition he hopes will centralize what he sees as general opposition to Steele among rank-and-file Republicans across the country. He, like a lot of establishment Republicans here in Washington, said Steele's tenure has done more harm than good to the GOP as it gears up for the presidential election in 2012.



In an interview Monday, Shultz told TPM that former RNC political director Gentry Collins' scathing resignation letter of Nov. 16 finally pushed his concerns about Steele into action.
"After that letter came out, and then after some other articles came out talking about how Steele has a fair number of votes for the January election, I was concerned," he told me. Over the weekend, he set up the page and got to work spreading the message that it's time for Steele to go.
Shultz is not a voting member of the RNC, nor are young Republicans like him expected to play much of a role in the selection of the next RNC chair, whomever it may be. But for Steele, who has sold remaking the party as more accessible to groups who traditionally stay away from the GOP — like young voters for example — a cornerstone of his tenure, Shultz' view that the RNC chair is bad for the party can only be seen as a setback, even if only a minor one.
Shultz wasn't ready to say that young Republicans have turned on Steele entirely, but he said the ambivalence toward the RNC chair wasn't reserved for higher age brackets.
"I think there's definitely a consensus that's building that he needs to go," Shultz said. "He's a solid individual. I just question his ability to lead us to victory in 2012."
[TPM SLIDESHOW: Steele Trap: A Look At The RNC Chair's Year]
Shultz, who just came off his brother Matt's successful campaign to become Iowa's next Secretary of State, said Steele's RNC was virtually nowhere to be seen on the campaign trail. He questioned Steele's recent claims that by reaching out to the grassroots he boosted voter turnout.
"When he sits there and claims that he's the reason why the tea party didn't revolt from the RNC, I question that," Shultz said. He said the RNC may be taking credit for tea party turnout that would have happened regardless of what Steele did.
Shultz says he's waiting to make a final call on who to support as the next RNC chair, and said that his online petition was not driven by any of the dozen or so candidates rumored to be in the running for RNC chair. He does lean toward one of the options however — he told me Nick Ayers, the 28-year-old executive director of the RGA and a rumored candidate for RNC chair — would be a "great choice" to lead the party into 2012.
Note – this post was written by Evan McMorris-Santoro for Talking Points Memo and is re-purposed here via a content sharing agreement.
Have a tip we should know? tips@mediaite.com