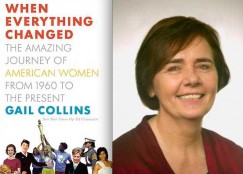 It's not really a secret around here that I am a big fan of New York Times op-ed columnist and author Gail Collins. Collins, whose witty and sharp columns often add a measure of levity to the Times op-ed pages — particularly during last year's sometimes fraught campaign season — has brought those same talents to her two books on the history of women in America. Her first, America's Women: 400 Years of Dolls, Drudges, Helpmates, and Heroines covered the lives of women from the Mayflower through to the end of the 1950's (and in the telling made me increasing grateful I was late enough to miss most of it). And she has just followed up with When Everything Changed: The Amazing Journey Of American Women From 1960 To The Present, which picks up exactly where she left off and details the lives of women over the last fifty years.
And what a fifty years! The opening chapter is packed with enough jaw-dropping anecdotes about the restricted lives women lead that it's hard to believe so much change could occur in one lifetime, though thanks in part to the recent success (obsession for some) of Mad Men, the first hundred pages of the book function as a sort of companion piece to the show. You can read more on the book here. In the meantime, Collins was nice enough to take time out to answer Mediaite's 5QQ (five quick questions). Enjoy.
1. How do you get your first news of the day?
I download a digest version of the Times and listen to it on the way to work.
2. The "either, or" question (you gotta pick one!):
Stewart or Colbert?
Colbert

Albany or D.C.?
D.C.

Palin or Bachmann?
Palin has certainly given me more columns although Michele is coming up there.

Eleanor Roosevelt or Gloria Steinem?
Gloria would want me to say Eleanor Roosevelt.

Peggy Olson or Joan Halloway?
Peggy.
3. What's the biggest story the media has missed this year (or last week)?
I'm part of the media. If I thought there was a big thing we missed, I should write a column about it, not complain about it.

4. Obligatory Twitter question: Describe yourself in 140 characters or less (hash tag optional).
Columnist and writer of women's history books currently in mental meltdown over twitter assignment.

5. Are you nervous or excited about the future of Journalism? Why?
Excited. The next generation is going to get to make a whole new thing. I've got total confidence reporting will continue to go on, and actually get better on the state and local level. And there will be entirely new ways of writing that will be appropriate to the internet. It's going to be amazing for young journalists. But in the near term, try to find a spouse who has good health insurance.
Have a tip we should know? tips@mediaite.com