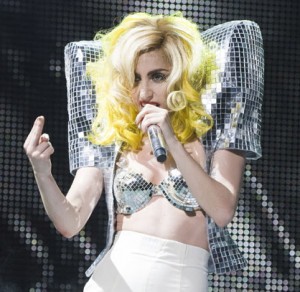 During Lady Gaga's headlining set at Lollapalooza last weekend, she devoured a fake human heart, was attacked by a giant mechanical fish monster, and demanded that all the males in the frenzied crowd expose their genitalia – as a member of the audience, I can confirm that many of them, self excluded, obliged. If any of these stage antics are commonplace on her Monster Ball Tour, a certain octogenarian politician is about to be scandalized.
That's because New Jersey Senator Frank Lautenberg has been outed as a devoted Little Monster, despite being 86 years old, and his Gaga love is now being turned into a fundraising opportunity: for just $2,500 per person for political action committees, and $2,400 for common folk, you can join him for the Sept. 7 showing of The Monster Ball in a Verizon Center suite provided by the Lautenberg for Senate team.
As the Washington Post explains, Lautenberg celebrated his 86th birthday at Gaga's Radio City show in New York this January, and the idea for this fundraiser sprung from his love of the song "LoveGame" (Note: there's no evidence that this is actually his favorite Gaga song, but it's funny to think of him singing along the term "disco stick"). With seats going for $2,400-$2,500 a pop – the maximum that individuals can give per election – he's poised to rake in around $40,000.
But who cares about the proceeds (Lautenberg isn't even up for reelection), he gets to see Lady Gaga twice in one year! And coming from someone who dropped hundreds of dollars to see Britney Spears' Circus Tour twice in 2009 – how dare you judge me? – I completely understand his decision.
Have a tip we should know? [email protected]