A Few House Republicans Willing to End Obamacare Fight to Stop Gov't Shutdown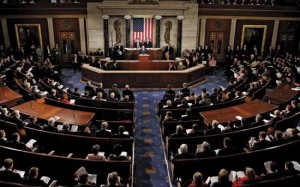 Many House Republicans are standing firm on their attempt to delay Obamacare, but a few of them have indicated a willingness to end the battle on Obamacare for now in order to get the government up and running again.
The Huffington Post has been compiling a list of House Republicans who have indicated a willingness to vote on a clean continuing resolution, meaning they would be willing to fund the government without exception, thus effectively ending the partisan fight over the Affordable Care Act for now.
Here are statements from some Republicans who have already gone on the record: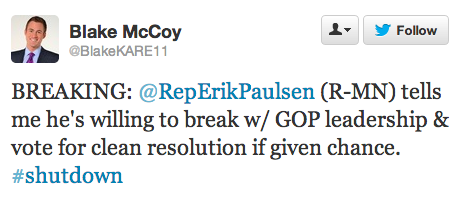 "I came to Washington to fix government, not shut it down. At this point, I believe it's time for the House to vote for a clean, short-term funding bill to bring the Senate to the table and negotiate a responsible compromise."

~ Press release from Rep. Patrick Meehan
Rep. Lou Barletta… said he would "absolutely" vote for a clean bill to avert a government shutdown. Barletta said he's in "a tough situation" of wanting to strip down Obamacare but not wanting to be responsible for a government shutdown.
There are presently just a dozen House Republicans backing a clean CR, though Congressman Peter King claims that that a majority of Republicans would back it if it came to the floor.
Representative Peter King (R., N.Y.) tells National Review Online that he thinks House Republicans would like to avoid an impending government shutdown and that he won't vote for anything other than a clean CR. He also says that many of the Republican members he talks to on the House floor feel largely the same way.

"If it was on the floor, they would do it," he says. "Put it this way, two thirds want a clean CR."

He adds: "Including some of the people who got elected as tea-party candidates from the South. You talk to them, they think this is crazy."
It's still unclear whether it would be backed by enough Republicans to pass Congress in the first place.
[h/t The Blaze]
— —
Follow Josh Feldman on Twitter: @feldmaniac
Have a tip we should know? tips@mediaite.com
Josh Feldman - Senior Editor