A Twitter Whodunit: Big Government Posts Lewd Photo Suggesting It's From Rep. Weiner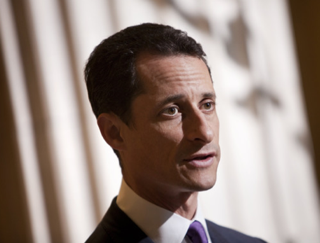 In what could develop into one of the most bizarre media stories in recent memory, Big Government is reporting that Rep. Anthony Weiner (D-NY) attempted to send a close-up photo — that's extreme in more ways than one — to a user via Twitter. But the method by which this story evolved, late at night with no official comment and few leads, creates a web of questions through which the career of any participant could fall.
The story, published at 12:24 AM anonymously, notes that Weiner previously had tweeted that his Facebook account had been hacked, but the photo and the Twitter account to which he allegedly directed the photo are nowhere to be found. Thus far, Rep. Weiner has not commented. To make matters much stranger, Big Government proprietor Breitbart tweeted at the Congressman to own up to it, as "we have much more."
Let's start at the beginning: Rep. Weiner, who often sends out lighthearted tweets, complained early this morning of a Tivo technical difficulty, followed by a Facebook hacking: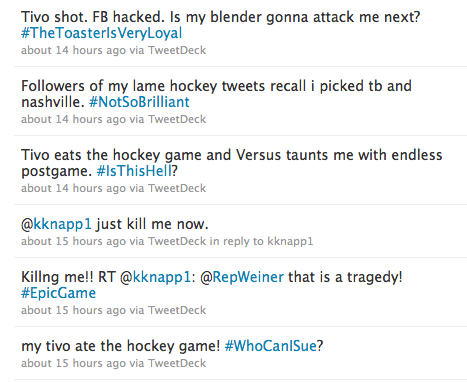 Innocent enough. Somewhere in between all these tweets, however, an anonymous writer on Big Government under the pseudonym "Publius" (who is a regular contributor at BG) claims the account sent out the following picture to a Twitter user they chose not to identify.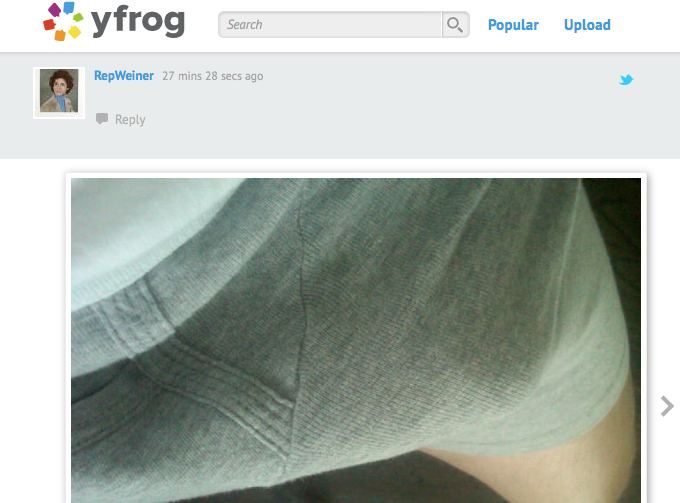 The URL that Big Government provided in their original does, in fact, lead to Rep. Weiner's account, though the picture has since been deleted. And no, this is, apparently, not where the story ends. Big Government was the only outlet to have original screenshots– and, yes, for the most part, only right-wing outlets have followed up (one imagines that, post-Sherrod, it's going to take evidence from several more places for the mainstream media to may attention to this).
Meanwhile, Breitbart himself has taken to eliciting a response from the Congressman on Twitter: "Just call it 'constituency outreach' and be done with it. We have much more. Need confirmation or denial." That's a fairly loaded tweet. Why would Breitbart have "much more" on Rep. Weiner?
Now, there are three ways this story could go: either Rep. Weiner did, in fact, post these photos and immediately remove them, or someone posted them as him, or they were never posted at all. Unlike the Rep. Chris Lee scandal, there's no face to the name, which makes the entire ordeal far trickier. As Rep. Weiner tweeted that he had been hacked, that should be the first option, as the presumption of innocence is key. The Photoshop possibility exists only if the URLs "Publius" posted were fabricated, which would raise the question of who would be motivated to do such a thing, how they did it, and whether they're feeding Breitbart's anonymous writer information.
Then there's the option that the photo was posted by Rep. Weiner onto his account, and not a hacker, in which case he'd have to have the resilience of Sen. David Vitter to get out of this one politically viable. And taking the evidence at face value, Rep. Weiner has some serious questions to answer. For one, how does a Facebook hack lead to a photo being posted on Twitter?
Then there's the possibility Weiner didn't post these pictures, in which case the only venue to actually have them would be very suspect. This option would have required the Breitbart outlet to find a yFrog URL for a deleted photo from 15 hours and 46 minutes ago, find a disembodied penis in some sexy underwear, do some Photoshop magic and call it a day– which raises its own set of questions, among them "Why?", "Really?" and "Seriously?!" Why would Andrew Breitbart, who already faces an uphill credibility battle– wrongfully or otherwise– thanks to Shirley Sherrod (and, he claims, Glenn Beck) put it all in the line, particularly in such a sleazy way?
Those who question most of what he publishes have already begun accusing him of fabrication, but many always do, regardless of the issue at hand. Just as the original claim requires more sources to corroborate it, so does the kneejerk claim that it's a Nixonian conspiracy. Breitbart is anything if not smart about his career moves, and a theoretical fabrication like this seems beneath even him. But how would he have "much more" on the Congressman on such a happenstance occurrence, and isn't it a little bit too convenient that Congressman Weiner would have a sexy pic scandal? Also notable is the fact that this post's author, Publius, is entirely anonymous. Why didn't someone with a real identity and something to lose sign off on this?
Either way, we can all probably agree on one thing: this entire ordeal is going to inevitably lead to a whole series of "Weiner" jokes… But this may not be a laughing matter, we either have a serious media or political scandal on our hands. We will soon see which one.
UPDATE: The plot thickens. A bit ago since this story went live, Rep. Weiner tweeted the following:

Prof. Moriarty is a Sherlock Holmes reference. He also tweeted he has a number of new followers since the story broke:

Update #2 – Ben Smith reports that Rep. Weiner claims that the Twitter photo was the result of someone hacking his account.
Have a tip we should know? tips@mediaite.com