'A Wasted, Gifted Human Being': Former Rams Coach Vermeil Tormented by Lawrence Phillips's Death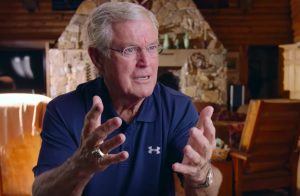 Super Bowl-winning former Rams coach Dick Vermeil was never one to hide his emotions during his brief, but highly successful stint in St. Louis. And more than a decade after his retirement from coaching, he still wears his heart on his sleeve — at least when reflecting on the death of one of his former players.
As part of a new documentary, Vermeil reflected on his time with Lawrence Phillips — the troubled ex-Rams running back who committed suicide in prison this January, where he was serving a 31-year sentence for assaulting an ex-girlfriend and driving his car into three teengaers. Vermeil became visably angry as he second guessed his own decision to cut Phillips from the team in 1997.
"If I had to do it over again today, I might not have fired him," Vermeil said. "I don't feel good about it. A wasted, gifted human being. It haunts me."
Phillips battled an addiction to alcohol for many years during and after his football career. Vermeil recalled the moment when he cut Phillips the day after a game in which Vermeil believed Phillips played while intoxicated.
"I said 'Lawrence, what would you do if you were the new coach of the St. Louis Rams?' Big tears are rollin' down this kid's face. He looked me right in the eye and said, 'I would fire me.' I says, 'Well Lawrence, I tell ya, that's what I'm gonna do.' "
D'Marco Farr, a former Rams teammate of Phillips's, said that the running back got more leeway than others did under the strict Vermeil.
"The fact that Dick Vermeil was trying to make it work with Lawrence tells you how talented he was, because he didn't put up with that crap from most guys," Farr said. "You were gone, but he kept trying with Lawrence."
Watch the clip above via Showtime, Running For His Life: The Lawrence Phillips Story premieres Friday Dec. 16 at 9:00 ET/PT on Showtime.
[image via screengrab]
–
Follow Joe DePaolo (@joe_depaolo) on Twitter
Have a tip we should know? tips@mediaite.com
Joe DePaolo - Senior Editor