Two Years Ago, Putin's Favorability Rating Among Republicans Was Abysmal. Now? Not So Much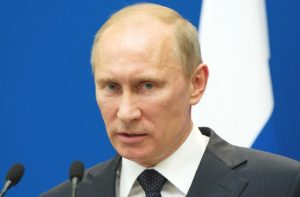 In a The Economist/YouGov poll released today, Republican voters revealed that their opinions on Russia and Vladimir Putin have become more favorable over the past few months. And, when compared to where it was more than two years ago, the change is absolutely remarkable, especially as Democrats' views on the country and Putin have only changed slightly.
In the latest survey, 37% of Republicans hold a very to somewhat favorable view of Putin, compared to 47 who view him at least somewhat negatively. This represents a net favorability rating of -10. Meanwhile, only 12 % of Democrats and 20% of Independents favorably view the Russian leader.
As pollster Will Jordan highlighted today, the shift in positive views for Putin among GOP voters quickly shifted in the past few months.
Um, wow…

Net favorability of Putin:

Democrats
July 2014: -54
Dec 2016: -62

Republicans
July 2014: -66
Dec 2016: -10

(YouGov/Economist)

— Will Jordan (@williamjordann) December 14, 2016
Here is Republicans and Democrats on Vladimir Putin since July 2014. pic.twitter.com/s4I6FY5cbt

— Will Jordan (@williamjordann) December 14, 2016
Also, the view of Russia being considered a friend or foe of America has also shown a dramatic adjustment among Republicans. In this poll, 31% of GOP voters feel Russia is an ally or at least friendly with the United States. On the flip side, 52% believe Russia is either an enemy or unfriendly with America, giving Russia a net friendly rating of -21. (For comparison's sake, 16% of Democrats and 19% of Indys believe Russia is a friend of the U.S.)
Jordan noted the difference in Republican views over the past few years, revealing that in late 2014 GOPers gave Russia a net friendly rating of -75.
It's not just Putin.

Here are perceptions about whether Russia is a friend to the US or not, since 2011. pic.twitter.com/CrtVEB4Vws

— Will Jordan (@williamjordann) December 14, 2016
As a net rating, the "friendly" rating for Russia among Republicans has swung from low of -75 in 2014 to -21 today. https://t.co/PrbOLQFY5a

— Will Jordan (@williamjordann) December 14, 2016
Of course, Russia has been in the headlines due to reports that the CIA has concluded that Russia interfered in the election to assist Donald Trump. Other intelligence agencies have agreed that Russians did commit hacking, but haven't reached same conclusion on motive.
In response to the CIA story, Trump has called it "ridiculous."
[image via screengrab]
–
Follow Justin Baragona on Twitter: @justinbaragona
Have a tip we should know? tips@mediaite.com