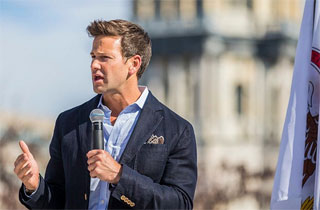 Representative Aaron Schock (R-IL) bad month just got worse, as a new report alleges he used taxpayer money to attend a Chicago Bears game.
A report from the Chicago Sun-Times' Lynn Sweet called attention to two trips last fall, one to Chicago for a Bears game and one to New York City for the Global Citizen Festival.
In November Schock chartered a plane to Peoria, and then at the last minute decided to use it to literally jet himself and several others to Chicago for the Bears game. The pilot was paid $10,000 for the weekend, expenses which, according to a House disbursement report, Schock had not reimbursed.
"That whole weekend was paid by the government," the pilot said.
Meanwhile in a September trip to Gotham, Schock was a presenter at the Global Citizen Festival, to which his PAC purchased $3,000 worth of VIP tickets to the Global Citizen Festival. Schock has had ties to the GCF in the past, meeting with representatives from a mining and construction company on one of their planes last year. According to the Sun-Times, there is no record of Schock's PAC reimbursing the House for the New York expenses.
Schock's bad run of luck started with an article in the Washington Post about his Downton Abbey-inspired office decor, which quickly led to questions of who had paid for the decorations. He has since faced multiple charges of misappropriating public funds, and has hired a team of lawyers to conduct an audit of his office's policies. In between, his communications director resigned due to racially-insensitive Facebook posts.
[h/t Chicago Sun-Times]
[Image via Aaron Schock/Instagram]
——
>> Follow Evan McMurry (@evanmcmurry) on Twitter
Have a tip we should know? tips@mediaite.com