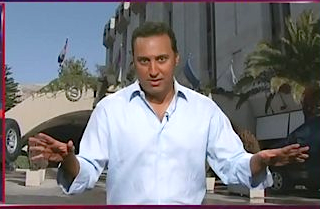 Since 2007, Aasif Mandvi has served as the Senior Middle East Correspondent for The Daily Show, often reporting on issues related to the Muslim world. His new memoir, No Land's Man, is set to be released next week (and is available for pre-order on Amazon now
).
In an excerpt published by Vanity Fair this week, Mandvi describes how working for The Daily Show helped him commit a "jihad of irony" and become a "terrorist of comedy":
The longer I spent time on The Daily Show, standing in front of a green screen pretending to report from war zones and hot spots around the world—most often from somewhere in the Middle East—the more I began to realize that The Daily Show was radicalizing me. I was being allowed to express the outrage that had lain dormant in me since the aftermath of September 11. I was becoming a terrorist of comedy. This was my joke madrasa run mostly by Ivy League–educated Jews, and I was being taught how to commit a jihad of irony against the bullshit, the hypocrisy, the ignorance. I was learning to fire missiles of satire across the basic cable airwaves and blow the minds of a million people. Sometimes we even got up to two million if it was election time. I was able to retaliate on behalf of a sector of society that needed to know that someone, kind of, sort of, had the balls that no one on Fox or CNN had. American Muslims, whether they were religious practitioners or whether, like me, they mostly identified with Islam from a cultural standpoint, had not been allowed the luxury of being both patriotic and critical of America at the same time. This was evidenced by the brown-faced cabbies on the streets of New York who had adorned their yellow cabs with so much red, white, and blue that they looked like floats in the Fourth of July parade. Anyone with a thick Middle Eastern or South Asian accent quickly replaced "Inshallah" with "God bless America."
RELATED: Daily Show Correspondents Reveal the One Piece of Advice They All Got from Colbert
Read the full excerpt at vanityfair.com.
[h/t Splitsider]
[Photo via screengrab]
— —
>> Follow Matt Wilstein (@TheMattWilstein) on Twitter
Have a tip we should know? tips@mediaite.com