ABC News Is Fighting CPI Over Its Pulitzer, and It's Getting Ugly (UPDATED)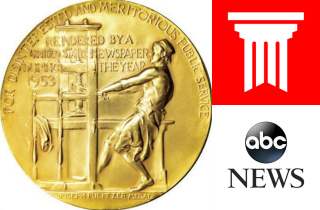 ABC News' new president Ben Sherwood sent a four-page letter to the Center for Public Integrity Tuesday asking CPI to share its Pulitzer Prize with ABC News investigative reporter Brian Ross and producer Matt Musk, whom it said worked as equal partners with CPI investigative reporter Chris Hamby on the prize-winning story about the denial of medical benefits to black lung patients.

In the letter, Sherwood said CPI's Executive Director Bill Buzenberg "omitted the names of ABC News reporters and sought to parse and diminish their contributions, even though their bylines appropriately appear on four of the eight articles submitted by the Center to the committee."
"Do you really believe that Hamby and CPI would have been recognized with this honor without the contributions of ABC News?" he asked.
CPI said the majority of the investigative work was done by Hambry, and that ABC joined midway through the year-long reporting and served largely as a "megaphone" to allow the story to reach a wider audience.
In a phone conversation with POLITICO's Dylan Byers, Buzenberg firmly denied that ABC deserved the Pulitzer. "The Pulitzer is a fantastic award for print and digital organizations," he said. "It's pretty clear in the rules. If ABC wants to win a Pulitzer they should get into the print business and do writing. They did not write the 25,000 word that we did for the Pulitzer entry."
UPDATE 1:26 pm.
Buzenburg responded officially on CPI's website Wednesday afternoon. "I have to assume this is all part of an unfortunate PR campaign by ABC News," Buzenburg wrote, adding that the bylines of the ABC News members were only included at ABC's insistence, and that they otherwise would have received end-line credit:
Brian and Matt did significant reporting; however, much of that was to meet the needs of a TV segment and did not end up in the Center's print story. The amount of reporting from them that made it into the story typically would warrant a credit line at the end. At ABC's strong request, however, we agreed to place the names of Brian and Matt in the byline field, even though this report was fully reported and written by Chris. To claim for ABC that they wrote this piece now is a pure fabrication.

To put this more simply: The contributions of Brian and Matt do not come close to warranting a byline.
[Image via screengrab]
——
>> Follow Evan McMurry (@evanmcmurry) on Twitter
Have a tip we should know? tips@mediaite.com