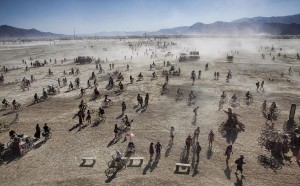 In response to mounting criticism that the annual Burning Man Festival has become a whitewashed, elite affair, founder Larry Harvey said, "I don't think black folks like to camp as much as white folks."
Harvey's comments come from an interview with the Guardian on Friday, in which the founder asserted that he would not "set racial quotas" in light of an Aug. 20 article in The New York Times highlighting the festival's increasingly affluent demographics.
As noted by the Guardian, the latest Black Rock City census — a third party headcount performed by academic researchers interested in knowing what kind of people annually attend the festival — indicates that most attendees identify as white. In fact, the numbers are staggering:
87% of burners identified as white; 6% identified as Hispanic, 6% as Asian, and 2% as Native Americans – on the latter of whose ancestral lands the event occurs. The smallest demographic of burners – 1.3% – identified as black. According to the census, which also measures income, this means that the temporary city is home to twice as many people who earn $300,000 a year as it is to black people.
When the interviewer pressed these numbers upon Harvey, asking whether or not they nullified his festival's claims regarding its attempts at creating a utopian society, he quickly shrugged them off:
"This has never been, imagined by us, as a utopian society," Harvey answered. "I'll believe in utopia when I meet my first perfect person, and this community is made up of 70,000 imperfect persons.

"That being the case," he continued, "I think it's a little much to expect the organization to solve the problem of racial parity. We do see a fast increasing influx of Asians, black folks. I actually see black folks out here, unlike some of our liberal critics."
He went on to point out that "[his] family is half black," and that while he'd gotten himself into trouble before for saying blacks aren't overly fond of camping, Harvey repeated these sentiments.
"There are some historic reasons for that," he said. "Especially in the United States."
While much of this probably comes off as bloated excuses and attempts at explaining away criticisms, Harvey isn't entirely full of himself. His family is biracial, and though he himself is white, his stepson is "biracial" and has encountered racially-motivated police stops more than once:
His stepson, he says, was arrested in Marin County, the wealthy suburban county north of the Golden Gate bridge "more than once, where he lived, of DWB: which is driving while black. [White people] seem to think if you drive past their homes, you're reducing their property values, and the cops act like they're some kind of mall security force. It's pretty racist."
Even so, Harvey's "camping" comments, which he has said before and said yet again, are still rubbing people the wrong way. It doesn't help that, as evidenced by the NYT report and similar articles from Burning Man Festivals past, the whole affair is more and more becoming a party in the desert for those who can afford it.
[h/t the Guardian]
[Image via Wikimedia Commons]
— —
>> Follow Andrew Husband (@AndrewHusband) on Twitter
Have a tip we should know? [email protected]