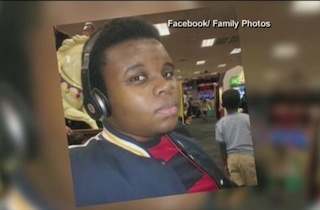 From the Los Angeles Times' Matt Pearce, several actors in a new Los Angeles stage play based on the shooting death of Michael Brown have quit the production in protest of its portrayal of Brown, who in the play is made to charge Officer Darren Wilson before he is fatally shot.
The actors' exit was expedited by the political leanings of the playwright, conservative filmmaker Phelim McAleer.
"It felt like the purpose of the piece was to show, 'Of course he was not indicted — here's why,'" one actor told Pearce.
The Ferguson grand jury declined to indict Wilson, leading to weeks of turmoil in the Missouri town. The Justice Department later repudiated some witnesses' claims that Brown had his hands up when Wilson shot him, which had given the protesters their rallying "hands up, don't shoot" chant. Some have since publicly retracted their belief in that Brown had his hands raised in surrender.
McAleer didn't say whether the grand jury should have indicted Wilson, and in fact wants the audience to vote at the end of the play. But his script has Brown as the antagonist of the situation, and appears to indicate Wilson "had no choice" but to shoot to kill. "All the people who testified that he had his hands up, it was pretty much demolished in grand jury testimony," McAleer said. "If it doesn't fit in with their beliefs, they need to change their beliefs."
One of the actors is Donzaleigh Abernathy, daughter of civil rights leader Ralph David Abernathy. "I want to hear what he has to say face to face. I actually want to know, on a moral level, how can you do something like this that you know will divide America?" Abernathy said. "Does it make you feel good? Obviously he has a personal agenda. What is his personal agenda?"
"These are people who claim to love diversity, and they don't love diversity — they just want people to agree with them," McAleer said.
According to Pearce five of the cast members have quit the production so far, meaning McAleer may have to recast.
[h/t Los Angeles Times]
[Image via screengrab]
——
>> Follow Evan McMurry (@evanmcmurry) on Twitter
Have a tip we should know? tips@mediaite.com