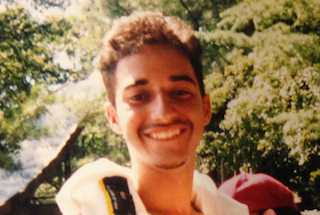 Since reporter Sarah Koenig ended the first season of her Serial podcast last December on a relatively unsatisfying note, fans have been clamoring for more answers about Adnan Syed's alleged 1999 murder of high school girlfriend Hae Min Lee. But while Koenig has said she has no plans to continue the story — despite numerous real-time developments — Syed's lawyers have announced plans for a podcast of their own.
Lawyer Rabia Chaudry, who first brought the case to Koenig's attention, along with Susan Simpson and Colin Miller plan to launch "Undisclosed: The State v. Adnan Syed" on April 13. Funding for the series is being provided by the Adnan Syed Legal Defense Fund, which has so far raised over $93,000 from more than 1,000 supporters.
The crowdfunding page describes "Undisclosed" as "a bi-weekly podcast" that "will examine and explore the case in greater detail, from an investigatory perspective instead of a narrative one." In other words, don't expect it to be quite as addictively entertaining as Serial, which quickly became the most popular podcast of all time and four months later still sits at number two on the iTunes charts, just below Koenig's former home, This American Life. Mediaite reached out to the Serial producers, who confirmed they will no involvement in the new project.
In February, The Maryland Court of Special Appeals approved Syed's appeal application, meaning the court is willing to hear new evidence regarding what his lawyers are planning to argue was ineffective counsel by his original attorney, Christina Gutierrez. But even if Maryland's highest court, the Court of Appeals, decides to overturn Syed's conviction, the state is likely to retry the case.
[h/t Baltimore Sun]
[Photo via Serial]
— —
>> Follow Matt Wilstein (@TheMattWilstein) on Twitter
Have a tip we should know? tips@mediaite.com