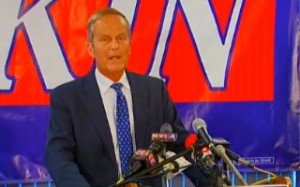 In a press conference on Friday, Todd Akin confirmed his intention to stay in the race against Democratic Missouri Sen. Claire McCaskill in spite of controversial comments he made about the ability of women to biologically terminate a pregnancy that results from a "legitimate rape."

RELATED: Huckabee Backs Akin, Slams GOP's 'Systematic Attack' On Fellow Republican
"Some people are having trouble understanding our message," Akin began. He made it clear that he intends to stay in the race until November.
He was asked "how many sleepless nights" did it take him to come to the conclusion to stay in the race. Akin replied by recounting the brutal primary fight that he narrowly won in August. He said the pressure
"I may not be the favorite candidate of some people within the Republican establishment, but the voters made their decision," said Akin. "I think America has gotten into trouble because we've paid too much attention to politics and not enough attention to principle."
Akin joked that if McCaskill offers to withdraw, he might reconsider his decision to stay in the race. Asked if he could run a "normal campaign," Akin said that he was not being supported by his state's GOP before the inflammatory comments that marred his election. "Campaigning is campaigning," Akin concluded.
Akin faces steep odds against McCaskill who was previously viewed as one of the Democratic party's most vulnerable incumbent Senate candidates. A Rasmussen Reports poll released Thursday shows McCaskill leading Akin by 10 points at 48 to 38 percent among likely Missouri voters.
Watch the video below:
> >Follow Noah Rothman (@Noah_C_Rothman) on Twitter
Have a tip we should know? tips@mediaite.com