Akin Tells Hannity That Romney Exploited Rape Statement Controversy For Political Gain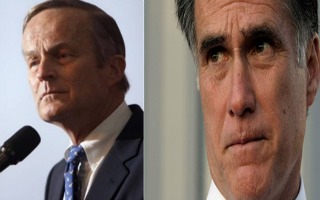 Appearing on Sean Hannity's radio program for the second time in as many days, Missouri Republican Senate candidate Todd Akin attacked the GOP's presidential candidate, Mitt Romney, for joining a chorus of Republicans asking him to withdraw from the race. Akin said that Romney had blown the controversy out of proportion and implied that he had done so for his own political gain.

Hannity asked Akin, given the number of prominent Republican politicians asking Akin to drop out including Romney, if he is even pausing to consider leaving the Senate race in Missouri.
"Let me ask you this," Akin began. "If you were in Romney's position, don't you think that he may have bid this thing up and made a bigger deal about it than he needed to?"
"Why couldn't he run his race and I run mine," asked Akin. "If things really look like they're getting in trouble in Missouri than maybe — but he has just assumed."
Akin went on to cite a Public Policy Polling flash poll from last night which showed him still leading Sen. Clair McCaskill even amid this controversy. Hannity pointed out that that particular poll sampled 9 points more Republicans than Democrats and it was a poor indicator.
Later in the interview, Akin said that he was contacted by Republican vice presidential candidate Paul Ryan who, according to reports, also asked Akin to consider dropping out.
Akin heaped praise on Ryan, but said that the vice presidential candidate only asked Akin to do what he thinks is best. Akin reiterated his belief that what is best for the race, and the nation, is for him to remain in the race as the Republican's Senate candidate in Missouri.
Listen to the interview below via The Sean Hannity Show:
> >Follow Noah Rothman (@Noah_C_Rothman) on Twitter
Have a tip we should know? [email protected]