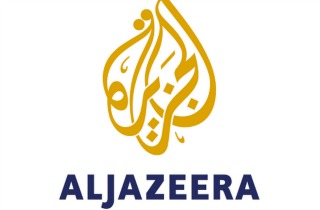 Al Jazeera America for some reason decided to publish a satirical article mocking the failure and imminent closure of Al Jazeera America.
The network's website published an op-ed Thursday titled "Six hot media startups to watch in 2016," written by "Jeff Jarvis." But the Jeff Jarvis they got in touch with wasn't the tech journalist, but the popular Twitter parody account @ProfJeffJarvis. His byline to the op-ed declared that he was "the world's leading hyperglocal thinkfluencer and Journalism 3.0 advocate. He is cofounder of the Mogadishu:Reinvent unconference and CEO of Mogadishu Capital Partners LLC."
The "hot media startups" he listed were actually all struggling or the butt of constant jokes, such as Fusion, The New Republic, and Mic. If the mockery in each of his "glowing" profiles wasn't obvious enough, each entry was accompanied with a gif depicting a fail.
Last and certainly least, Jarvis "praised" Al Jazeera America.
With its origin as an innovative mash-up of aging Qataris and US millennials, the site, funded by the Emir of Qatar, quickly made its mark. It scooped up Current TV from Al Gore and his partners for the bargain price of $500 million. They then forged a different path from the rest of the industry, pulling their online video feed in favor of going cable-channel only — very unusual in today's millennial-dominated world.

But who says that going retro can't be innovative? Rather than leaping "over the top" to reach people, they picked a "through the wall" strategy, in what I feel is a very bold gambit to tempt Fox News' 60-something-year-old viewers over to the AJAM camp. At the same time, the company has its eye on the long-term: positioning themselves to capture the millennial audience when it hits AARP age.

Time will tell whether this gambit succeeds, but I certainly applaud the Qataris for ignoring the naysayers and running straight through the wall. Definitely the top one to watch in 2016.
After being widely shared on social media, Al Jazeera America eventually deleted the op-ed. "Al Jazeera America has removed the satirical piece originally posted on this link, which included commentary on our company that we believe was not appropriate given its imminent closure," an editor's note now reads.
Jarvis got in one last barb at the network's expense, mocking its tendency to censor content unacceptable to its Arab owners.
Hey @ajam @AlJazeera Is there a mistake here? Surely you can't have censored *yourselves*? https://t.co/OwRERl5Dkl

— Prof. Jeff Jarvis (@ProfJeffJarvis) February 25, 2016
UPDATE (6:21 PM ET): The original article indicated that Al Jazeera America was "tricked" into publishing an op-ed slamming . Mediaite has since learned that they willingly published the op-ed before pulling it, which is, if anything, even funnier.
[Image via screengrab]
——
>>Follow Alex Griswold (@HashtagGriswold) on Twitter
Have a tip we should know? tips@mediaite.com