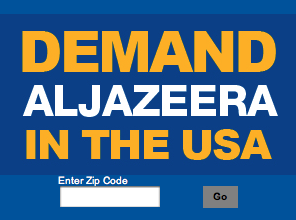 Al Jazeera, which has seen huge increases in viewership of its web streaming coverage of the uprising in Egypt, hopes to use the increased attention to its English language news service to find a permanent home on U.S. cable. The network's launched a Twitter campaign, "Demand Al Jazeera," and it's planning a series of Meetups across the country on February 10. "The past month has shown us something that America can no longer ignore: millions of Americans want to watch our channel and better understand our region, and too many are deprived of that opportunity," said Wadah Khanfar, director general of the Al Jazeera Network.

So far, though, the Meetups aren't exactly attracting huge interest. As of Friday morning, 27 people had signed up for the New York meeting, 13 in London and 10 in Los Angeles. Paris and Tampa both have attracted the interest of just 2 people.
Al Jazeera launched its English language channel to much fanfare in 2006, but never managed to find a cable operator interested in giving the Doha-based channel a spot in its lineup. As media writer Catharine Taylor observes today, even web buzz for the channel's coverage of the protests in Egypt hasn't changed the dynamic when it comes to cable operators:
Despite a 2500 percent increase in Al Jazeera's Web traffic since last Friday, cable providers and satellite companies don't seem to be jumping at a chance to carry it. Take a gander at this mealy-mouthed quote from Comcast, when Daily Finance asked what its plans might be concerning Al Jazeera:

We can't speculate; however, we regularly examine our channel lineups and talk with a wide range of programmers to ensure that we are bringing the content that our customers want the most.

Doesn't exactly sound like CEO Brian Roberts & Co. are huddling behind closed doors, feverishly weighing the pros and cons, does it?
Have a tip we should know? tips@mediaite.com