Alaskan Rumblings: Murkowski Implies She's Not Sticking With Republicans If Re-Elected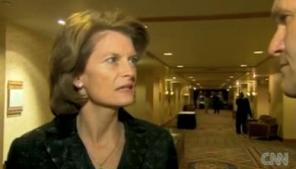 The Alaska Senate race remains one of the most interesting – not just because there are three candidates, but because all three candidates actually have a shot of winning.
While Joe Miller was dealing with the lamestream media over the weekend, it was his opponent Lisa Murkowski involved in some campaign storylines.
It started yesterday morning, as ABC's Jonathan Karl reported GOP leaders were thinking Murkowski could be their best shot to win: "A high-level GOP source tells me that party leaders have essentially given up on Republican Senate candidate Joe Miller and are now banking on a victory by write-in candidate Lisa Murkowski as the best bet for Republicans to keep the Alaska Senate seat."
This was disputed shortly after.
But in an interview with CNN's Drew Griffin, Murkowski implied she may not be voting with the GOP even if she is re-elected. "My gut tells me we are winning this campaign," she told Griffin, continuing:
I will be going back in a different capacity. I'm not my party's nominee right now. In a way, that's really very liberating – to know that I'm going back, truly representing all of Alaska's interests, not necessarily just my party.
When asked directly if she'd have to be 'wooed back' by the GOP, she said, "Let's just say, I know very well who will have returned me to Washington, D.C."
This exchange was immediately picked up by Dana Bash of CNN, who tweeted, "Woah. Lisa murkowski just made really clear to our drew griffin in alaska republicans can't count on her to be w them." Then, it got the rare media-related re-tweet from Sarah Palin.
This race could be one that the media is still talking about well after Tuesday night – because it could be days before it's over. If "write-in candidate" wins, but the second place candidate is close, the write-in votes will have to be scrutinized and, in some cases, discarded. Meanwhile Democrat Scott McAdams will be a guest On The Record with Greta Van Susteren tonight.
Check out the CNN Murkowski interview:


—–
» Follow Steve Krakauer on Twitter
Have a tip we should know? tips@mediaite.com