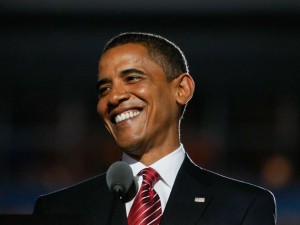 "The New York media world is staunchly Democratic," The New York Times reported today in a piece about political donations by media companies. While Wall Street may lean Republican, the article notes, "all major media companies" have made larger contributions to President Barack Obama than to Mitt Romney. That includes Rupert Murdoch's News Corporation.
Citing the Center for Responsive Politics, which is a nonpartisan nonprofit, the Times story observed that even companies "whose news outlets are often perceived as having a conservative bias have given significantly more money" to Obama.
Significantly more, indeed:
Rupert Murdoch's News Corporation, for example, has contributed $58,825 to Mr. Obama's campaign, compared with $2,750 to Mr. Romney. The conglomerate, which owns Fox News, The Wall Street Journal, The New York Post and the 20th Century Fox studios, gave roughly the same amount to Mr. Romney's Republican primary competitors Rick Perry and Ron Paul as it did to Mr. Romney.
Though Paul Ryan's addition to the ticket might help, it added, noting the following Tweet from Murdoch:
Thank God!Now we might have a real election on the great issues of the day.Paul Ryan almost perfect choice.

— Rupert Murdoch(@rupertmurdoch) August 11, 2012
While Murdoch's personal contributions (unsurprisingly) lean Republican, eight of 10 recipients of News Corp.'s $504,162 donation to individuals, Super PACs, and candidates in 2012 were Democrats. The story wasn't much different in 2008: The company sent $380,558 Obama's way, versus $32,740 to his Republican opponent John McCain.
News Corp. isn't alone, however. Time Warner (owns CNN, Time Inc., Warner Bros.), The Walt Disney Company (owns ABC and ESPN), and Comcast Corporation (owns NBCUniversal) favored Obama as well, and spent more money on him, too. Of those, Comcast contributed the most to Obama ($206,056).
The article was sure to note that "The New York Times Company was not among the [Center for Responsive Politics'] 'heavy hitters' and does not have a PAC; the newspaper discourages employees from contributing to political campaigns." And then added some context:
Despite the media money pouring in to his opponent, Mr. Romney and the Republican National Committee still have a significant cash advantage over Mr. Obama and the Democrats. According to a Federal Election Commission report released Monday, the GOP had $186 million on hand, compared with $124 million for Democrats.
For those who argue there's a "liberal media bias," this is likely to affirm those beliefs. Over at TVNewser, Alex Weprin has a rundown of political contributions by media companies as well.
(H/T NYT)
Have a tip we should know? [email protected]