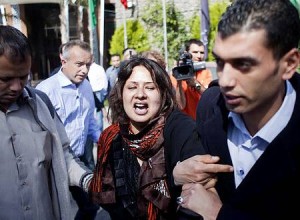 You might recall the story of Iman al-Obeidi, the woman who put a name and face to the plight of many women living in revolution-rocked Libya after she burst, wounded and disheveled, into a hotel housing several foreign journalists and informed those present that she had been gang-raped and badly beaten.
Journalists had attempted to shield her from hotel workers and "Libyan security forces," but she was eventually taken from the hotel. Although officials in Tripoli released statements to the contrary, al-Obeidi's mother let news outlets know her daughter was being held in former leader Muammar Qaddafi's Bab Al-Aziziya compound. Al-Obeidi's story brought global attention to sexual violence against Libya women and, at the time she was missing, a physician in Ajdabiya reported that Viagra and condoms had been found on pro-Qaddafi forces, thus supporting his fear that soldiers were "systematically using rape as an instrument of war."
Once freed, al-Obeidi shared the harrowing details of her story with NPR's Lourdes Garcia-Navarro, telling her that she's been raped, beaten and humiliated by multiple men over an extended period of time.
Now, al-Obeidi is ready to carve out a new future in the United States. Wednesday night, following 54 days spent at a U.N. High Commissioner for Refugees facility in Romania, Obeidi flew to New York, then took another flight to the city in which she will live. In May, she escaped Libya and arrived in Tunisia with the help of "a defecting military officer and Libyan rebels," later seeking temporary sanctuary in Qatar before being deported in June.
She told CNN that she is "excited and happy" to be in the U.S., giving special thanks to the U.S. government and to Secretary of State Hillary Clinton in particular.
Welcome home, Iman!
h/t CNN.com
Have a tip we should know? tips@mediaite.com