Allen West Offended Everyone When He Ordered Chick-Fil-A For Entire Congressional Black Caucus
Allen West Ordered Chick-Fil-A For Entire Congressional Black Caucus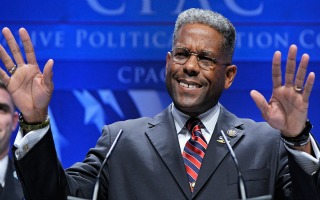 Rep. Allen West reportedly offended the entire Congressional Black Caucus when he delivered a selection of Chick-fil-A chicken and biscuits to the members' weekly meeting. CBC Chairman Rep. Alcee Hastings (D-FL) told The Huffington Post that, despite the incident happening six months ago, it is still fresh in their minds and every member was offended.

RELATED: Allen West's Democratic Opponent Shows Off Tea Party Congressman's Greatest Hits At WhatWestSaid.com
Despite that this incident occurred months prior to the public dustup that followed Chick-fil-A's CEO voicing his support for traditional marriage, Hastings told The Huffington Post that the members of the CBC were offended by West's choosing that particular fast food chain to cater their meeting.
Hastings says that it is appropriate for each member of the CBC to buy lunch on a rotating basis for their weekly meeting, but West's purchase was too "in your face" to be tolerable.
"We have fried chicken. And we have catfish and BBQ. We do not have watermelon, although sometimes people will have fruit. We serve a full course meal with collard greens. We have Jamaican beans and rice," Hastings said. But West "sent Chick-fil-A with biscuits. Ok?"

"That was an 'in your face.' Every member of the Congressional Black Caucus that was there was offended," he said.
"He did it deliberately," said Hastings, explaining that West was sending a not-so-subtle signal with his choice of fast food. Hastings also noted that he and West rarely interact and have a rocky relationship as vocal and partisan members of opposing parties in the House.
"I wouldn't want to go into his mental state," Hastings added. "All I know is his verbiage and his rhetoric is way over the top. Way over the top."
West briefly flirted with leaving the CBC In the summer of 2011. West decided to stay in the organization despite its close affiliation with the Democratic party.
> >Follow Noah Rothman (@Noah_C_Rothman) on Twitter
Have a tip we should know? tips@mediaite.com