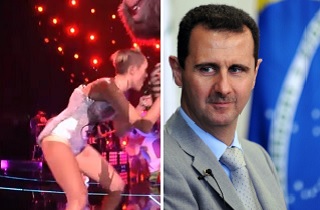 Mocking the priorities of the average American news consumer is the lowest of low-hanging fruit, but an item on New York Magazine's The Cut blog takes the pastime to extremes, asserting that "Americans Were 12 Times More Interested in Miley Cyrus Than Syria" in the days surrounding Cyrus' much-publicized twerk-off at the MTV Video Music Awards. Maybe, but another data set from that time period suggests that Americans were also very, very interested in Syria.
The Cut's Maureen O'Connor explains something called "Outbrain," which generates related links for websites like CNN's and Fox News', and collects traffic data which showed that:
In the three days surrounding Miley's VMA performance and the Obama administration signaling its willingness to bomb Syria, Outbrain's network generated 8,104 stories about the former and 19,568 about the latter. The day after the VMAs, Miley Cyrus stories accounted for 12 percent of total U.S. page views, while Syria stories accounted for 1 percent.
Interest in the starlet significantly outpaced Syria in England, Australia, France, Germany, and every other nation in Outbrain's analysis — except Israel and Russia. Globally, Miley Cyrus stories generated eight times as many page views as Syria did in the days surrounding the VMAs.

Two million Syrian refugees have fled the nation. To make the country twelve times more compelling — and thus as compelling as Miley Cyrus's ass is to Americans — the conflict only needs to displace 22 million more, i.e., the entire population of Syria.
It's tough to say how reliable an indicator clicks of related links are of overall public interest in a news story, but there is reason to believe that Americans cared at least as much about Syria's Assad as they did about Cyrus' ass-ad. A Pew survey taken the same week as Cyrus' performance showed that 39% of Americans were following news of Syria "very closely," with another 29% following it "somewhat closely."
During the week in question, interest in Syria far outstripped interest in every other news story polled:
Americans paid more attention to the Syrian developments than other stories this week, including news about the health care laws (23% very closely), wildfires in California (20%) and the 50th anniversary of the March on Washington (20%). About one-in-ten (9%) very closely followed the news about the NFL's agreement with former players about concussion-related lawsuits.
Interest in Syria was higher than it has been at any time during the two years of unrest in Syria, according to Pew's trend data. The previous high was 19% following "very closely," in early December of 2012. Unfortunately, Pew didn't ask respondents to weigh in on Miley Cyrus.
[photo via screengrab/Creative Commons]
This is an opinion piece. The views expressed in this article are those of just the author.