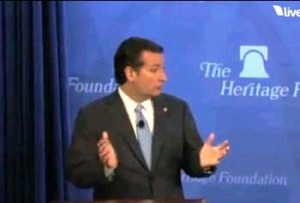 Senator Ted Cruz spoke at an event for the Heritage Foundation on Wednesday, and amidst what was a strong foreign policy speech, Cruz got a little personal and talked about the late Republican Senator Jesse Helms, the first politician Cruz ever gave money to. Cruz touted all the "crazy things" Helms said, not as a negative, but as a positive, declaring that the Senate could use "a hundred more like Jesse Helms in the U.S. Senate."
Cruz recalled how he sent ten dollars to Helms when he was a kid, joking that he "may have been Jesse Helms' single largest donor as a percentage of annual income." He said he did it because of how much people were attacking Helms, and brought up an anecdote about how the famous actor John Wayne donated to Helms' campaign, and Helms called him back to thank him.
"Apparently Wayne said, 'Oh yeah, you're that guy saying all those crazy things. We need 100 more like you.' The willingness to say all those crazy things is a rare, rare characteristic, and you know what? It's every bit as true now as it was then. We need a hundred more like Jesse Helms in the U.S. Senate."
Helms was an incredibly controversial political figure in his time, considered by many to be an unapologetic racist.
Watch the video below:
[h/t Roll Call]
[photo via screengrab]
— —
Follow Josh Feldman on Twitter: @feldmaniac
Have a tip we should know? tips@mediaite.com
Josh Feldman - Senior Editor