Amid GOP Investigation, Justice Department Denies Eric Holder Committed Perjury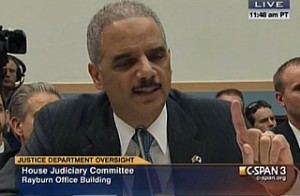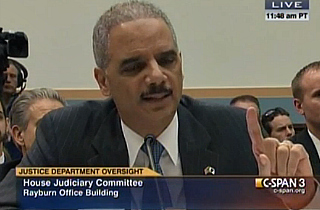 Last week, the House Judiciary Committee began investigating whether Attorney General Eric Holder committed perjury when he testified to Congress on May 15th that he was not involved in "potential prosecution of the press," following more recent reports that Holder signed off on a warrant in the case of Fox News reporter James Rosen. Today a letter from Principal Deputy Assistant Attorney General Peter Kadzik was sent to Republicans on the committee, officially defending Holder from charges that he lied under oath.
RELATED: Did Eric Holder Lie Under Oath? House Committee Reportedly Investigating Remarks About Prosecuting Press
The letter, obtained by POLITICO, uses careful language to explain why Holder may have signed off on a warrant, but was not strictly involved in any prosecution.
"Seeking a search warrant is part of an investigation of criminal activity, which typically comes before any final decision about prosecution… Ultimately, as you know, although a Grand Jury charged a government employee with the unauthorized disclosure of classified information, prosecutors have not pursued charges against the reporter. At no time during the pendency of this matter—before or after seeking the search warrant—have prosecutors sought approval to bring criminal charges against the reporter."
Holder has been under a great deal of scrutiny, to say the least, with predictions that he will not likely survive this scandal, and it is unclear that the DOJ letter today will be enough to assuage the concerns raised by Darrell Issa and Bob Goodlatte.
You can read the full DOJ letter here [PDF].
—–
Follow Josh Feldman on Twitter: @feldmaniac
Have a tip we should know? tips@mediaite.com
Josh Feldman - Senior Editor