Amid News Of 14-Year Prison Sentence, Rod Blagojevich Introduces The Media To New Dog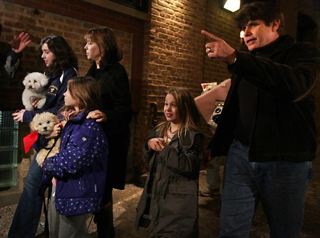 With the news that the head of the family is to serve more than a decade in prison for attempting to solicit bribes and getting caught on a wire, the Blagojevich family welcomed a new member of the family– a homeless puppy likely to be named Twix Blagojevich. Twix was welcomed at a press conference along with former Illinois governor Rod Blagojevich his wife and children, and the family's elder pooch, Skittles.
RELATED: Rod Blagojevich Sentenced To 14 Years In Federal Prison
The Chicago Tribune reported the story at the end of this week as the Blagojeviches met the press with their new family member. Explains the Tribune:
As former governor Rod Blagojevich prepares to leave Chicago to serve a 14-year federal prison sentence, he welcomed a new addition to his family tonight: an eight-week-old Malti-poo.

Luella, an apricot-colored female Maltese poodle mix, was found as a stray in Chicago before she was taken in several weeks ago by PAWS Chicago, according to executive director Rochelle Michalek.

The organization had begun working with the Blagojevich family to find a poodle mix last week. One of their picks had not gotten along well with the family's other dog, Skittles, Michalek said.

"All of them got along fabulously," Michalek said. "They're thinking about renaming her Twix because they have a Skittles."
The Washington Post also covered the story, adding the rather devastating detail that Blagojevich, discussing the potential of him getting a heavy prison sentence with the Associated Press, said in an interview "that he told his daughters if he ever went to prison, 'You can get another dog and call him, 'Daddy.''"
Whatever Blagojevich's crimes– arguably significantly less damaging than many crimes that do not elicit a 14-year sentence– the video of his children clinging to the family dogs in the midst of what cannot be an easy time for the family is quite moving.
Video of the Blagojevich puppy press conference via NBC below:

Have a tip we should know? tips@mediaite.com