Amid Scandals, Don Jr. and Eric Trump Reportedly Met With GOP Leaders to Strategize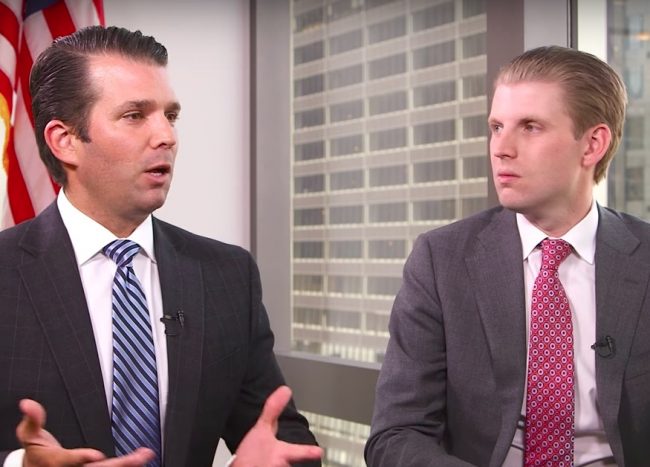 According to the Washington Post, Eric Trump, Donald Trump Jr., and Eric's wife Laura Trump met privately with GOP leaders to "share their concerns and outlook" and Republican National Committee headquarters on Thursday. This is apparently all part of a strategy to engage with the party on a national level.
At least "two prominent Republicans" expressed annoyance to WaPo about the Trump sons, who run the president's businesses, being able to meet with high-ranking political organizers for two hours. Still others argued that as one-time volunteers for the Donald Trump campaign, they were allowed to be there without flouting any ethics rules. The purpose of the meeting, in fact, seemed to be to strategize about the 2020 election with RNC officials and other Trump allies:
Two people familiar with the meeting insisted that the Trump family did not pressure the RNC to follow their suggestions or to let them control aspects of the party. A third person said the family members made clear that they were frustrated with the way, in their view, the president has been drawn into various controversies and want the Republican Party to do what it can to help reignite his political base.
Of course, that sort of forethought is hampered by all of the scandals currently shaking the White House, most of which have to do with Russia. Most recently, the Trump brothers' brother-in-law Jared Kushner has been making headlines as reports indicate he sought a secret communication channel with the Kremlin.
Strategizing around that and all of the fallout could be hard.
[image: screengrab]
Have a tip we should know? tips@mediaite.com