An Elena Kagan Position The Entire Media Can Get Behind: Cameras In Supreme Court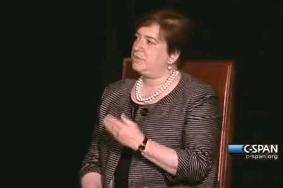 While the media brings up all the pros and potential cons to the Elena Kagan Supreme Court nomination, one thing the entire media is likely to embrace is her take on cameras in the courtroom.
The media, right and left, has always been a fan of access – and the Supreme Court is one courtroom where no camera has gone before. Maybe Kagan will change that.
Politico and FishbowlDC each posted this clip (below) from C-SPAN's coverage of the Ninth Circuit Judicial Conference in July 2009 in which she's asked what she would tell the Supreme Court if they asked for her take on cameras in the courtroom. "Well I have a feeling that they're not going to ask me," she said at the time.
Well they may now. And here's what she had to say:
If cameras were in the courtroom, the American public would see an amazing and extraordinary event. This court I think is so smart and so prepared and so engaged. And everybody who gets up there at the podium is – the toughest questions, the most challenging questions are thrown at that person.
More from Kagan: "I think if you put the cameras in the courtroom, people would see, 'Wow,' they would see an institution of their government I think working at a really high level. So that's one plus factor for doing it."
Sounds like she's pro-cameras in Supreme Court. If she can convince her colleagues, the cablers may be the ultimate winners in this nomination. Here's the clip:

—–
» Follow Steve Krakauer on Twitter
Have a tip we should know? [email protected]