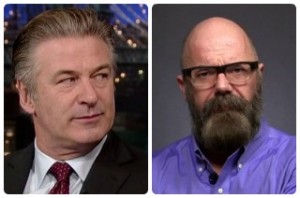 In his lengthy New York Magazine piece today, Alec Baldwin revisited the controversy over his anti-gay remarks last year, calling out both Andrew Sullivan and Anderson Cooper for being part of the "Gay Department of Justice" he said went after him. He calls Cooper "the self-appointed Jack Valenti of gay media culture," and goes after TMZ's Harvey Levin over that now-infamous video of Baldwin appearing to call a reporter a "c*cksucking fag."
Sullivan responded in a blog post today, saying that it's clearly an issue of "pride" for Baldwin that he can't just say his "hot Irish temper" got the better of him and back away, he had to insist that somehow, he had no idea that calling someone a "nasty little queen" and saying they would probably enjoy a foot up their ass might come across as homophobic.
RELATED: Andrew Sullivan: 'What a Bunch of Hypocrites and Phonies' on 'Propaganda Network' MSNBC
And, Sullivan adds, if Baldwin's really serious about leaving public life and moving on, he should just do it already.
You can stop giving paparazzi what they live for; you can let old stories die and rebuild your career with good work; and you can give to charity with total anonymity. Alternatively, you can write a long screed in New York magazine, claim that you were completely and falsely smeared, re-visit every tortured detail of the story that made life more difficult for you, detail your expansive holiness, throw barbs at lots of people who once worked with you, and loudly tell the world you're taking your marbles and going home.
Both Cooper and Sullivan noted at the time, when the fate of Baldwin's MSNBC show was up in the air, that if Baldwin had dropped a racial or anti-Semitic slur instead of a homophobic one, his career would be over.
[photo via screengrab]
— —
Follow Josh Feldman on Twitter: @feldmaniac
Have a tip we should know? tips@mediaite.com
Josh Feldman - Senior Editor