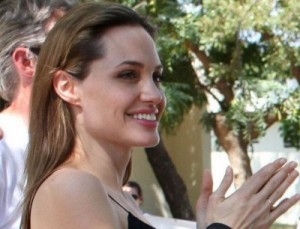 In an op-ed piece to be published in Tuesday's New York Times, actress Angelina Jolie has announced that she recently completed a preventive double mastectomy. In the piece, the actress explains that the procedures have decreased her chances of getting breast cancer, from 87% to 5%, and that she feels "empowered that I made a strong choice that in no way diminishes my femininity."
Jolie says she is sharing her experience now in hopes that other women can benefit from it.
From Jolie's New York Times op-ed:
My doctors estimated that I had an 87 percent risk of breast cancer and a 50 percent risk of ovarian cancer, although the risk is different in the case of each woman.

Only a fraction of breast cancers result from an inherited gene mutation. Those with a defect in BRCA1 have a 65 percent risk of getting it, on average.

Once I knew that this was my reality, I decided to be proactive and to minimize the risk as much I could. I made a decision to have a preventive double mastectomy. I started with the breasts, as my risk of breast cancer is higher than my risk of ovarian cancer, and the surgery is more complex.

On April 27, I finished the three months of medical procedures that the mastectomies involved. During that time I have been able to keep this private and to carry on with my work.
Jolie goes on to describe, in detail, the procedures, including a reconstruction that she says "can be beautiful." She also praised partner Brad Pitt for his support, and advised "anyone who has a wife or girlfriend going through this, know that you are a very important part of the transition."
Ms. Jolie's op-ed is chock full of good information and advice for women and their partners, and if there's anything to add to her near-perfect piece, it's that women who are undergoing this sort of procedure should understand their rights, and be ready to fight for them. From The American Cancer Society:
Make sure your insurance company will not deny breast reconstruction costs. Your surgeon may be able to help you with this if your insurance plan wants to deny coverage,
so be sure to ask. It may take some time and effort, because health plans have denied coverage for certain reconstruction procedures despite federal laws that require coverage in most cases. They often reverse such decisions on appeal.
In December of 2011, oddly enough, E! correspondent Giuliana Rancic announced that she would undergo double mastectomy surgery, and went straight from that announcement to an interview with… Angelina Jolie.
Read the full op-ed here.
Have a tip we should know? [email protected]