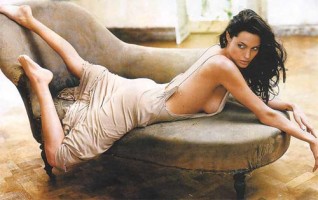 Get this: Angelina Jolie thinks Barack Obama is a "socialist in disguise." This is according to an anonymous source, who provided many dubious but extremely spicy quotes to Us Weekly. She also "hates him."
This raises several important questions: Does this doom Obama's chances in 2012? Will this tear her and Brad [Pitt] apart? And how does Angelina Jolie compare to Megan Fox, anyway?
From Us Weekly:
Barack Obama does not have Angelina Jolie's seal of approval.
"She hates him," a source close to the U.N. goodwill ambassador, 34, tells the new issue of Us Weekly (on newsstands now).

See Angelina Jolie's early modeling shots!

"She's into education and rehabilitation and thinks Obama is all about welfare and handouts. She thinks Obama is really a socialist in disguise," adds the source.
Fortunately, the source said that despite her political disagreements with Brad Pitt, who is a strong Obama supporter, this will not tear them apart. The source did not address whether Jolie's opinion would cause Obama to lose re-election in 2012 — be prepared for an op-ed on that topic somewhere.
It's easy to mock tabloids for their paper-thin reliance on anonymous sources. But we're going to do it anyway: Us Weekly's reliance on one anonymous source is laughably paper-thin.
But the more interesting takeaway here — the "media angle," if Mediaite commenters like Magister are to be appeased — is that in today's hyperpolarized, relentlessly political climate, a story about a celebrity's misgivings about Obama is considered juicy tabloid fodder. Has Us Weekly ever run a story that sounded more like Drudge-bait, at least in recent memory? Even if it is interspersed with links to photos of the Jolie-Pitt kids and slideshows comparing Angelina Jolie to Megan Fox.
Related: About 800 Pairs of Megan Fox's Boobs
(h/t a tips line email titled "this will get people reading your site.")
Have a tip we should know? tips@mediaite.com