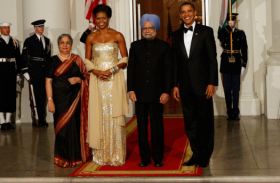 What could be better for the slowpoke day-before-Thanksgiving than a glittering White House State Dinner, with its photos to page through (Michelle Obama's looks like a beautiful Oscar! Desiree Rogers is in Commes Des Garcons!) and its guest list to parse (where was Richard Holbrooke? Chris Dodd made the cut but Harry Reid didn't? Hey! I forgot all about M. Night Shymalan!)
It is a perfect story for a slow day, with tidbits like the menu (Prawns! Red lentil soup! Arugula!) and the fashion (Michelle Obama's dress was made by designer Naeem Khan — and seriously? Desiree Rogers FTW!). The arrivals video from C-SPAN is sort of awkwardly mesmerizing — its actually sort of fun to watch the impromptu interactions that occur (Melody Barnes looks as happy as if she's going to the prom, and as lovely, too; by contrast, David Geffen and his boyfriend Jeremy Lingvall looked a little stiff, especially coming after a joke-cracking Brian Williams).
Glynnis MacNicol has a thorough round-up of the festivities culled from the Twitter stream of her fave, CBS' Mark Knoller); he did not, however, mention the preponderance of boring black at the dinner. Watching the arrivals on C-SPAN I was struck by how much more exciting and glamorous it is to wear color (Valerie Jarrett in bleh black was a disappointment). Standouts were Michelle Fenty, wife of D.C. mayor Adrian Fenty; Bhavna Shyamalan and her stunning hair; Michigan governor Jennifer Granholm; U.S. Ambassador to the U.N. Susan Rice, who wore black but with a fabulous and interesting neckline, plus a colorful wrap and Katie Couric, respelendent in blue-purple. Actually blue was the hue last night, come to think of it — other standouts included Alfre Woodard and Jane Williams, wife of Brian, both smashing in rich color. Below, our pick of the best photos (and outfits!) from the night. Alas, couldn't find a picture of Hillary Clinton. I bet she wore color.
>>>NEXT PAGE: White House State Dinner Photo Gallery From A-Z! (i.e. "Alfre" to "Zakaria")
Have a tip we should know? tips@mediaite.com