Angling For An Endorsement? Rick Perry Meets With Donald Trump In New York City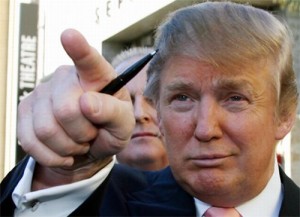 Donald Trump has upped his woo-ing game. Yesterday, the real estate mogul met with Texas Gov. Rick Perry to talk jobs and grab a bite. And unlike when Sarah Palin was in town, he actually took the presidential hopeful somewhere nice. The two met at Trump's Fifth Ave tower, and then headed out together to a nice dinner at Jean-Georges — plastic utensils, nowhere in sight.
"Well, I think he's a very impressive guy," Trump told ABC's George Stephanopoulos a few weeks ago, hinting at this meeting. "He's been governor of Texas for a long time. Texas has done very well. I think he's very ready."
"It's obviously about the presidency," Trump's spokesman Michael Cohen told CBS when they inquired as to what the meeting might be about. "Everyone wants Mr. Trump's support." Not only has he met with Palin and Perry, but he left his appointment with Michele Bachmann sounding somewhat affected.
Oddly, Cohen also told CBS that Trump is still tinkering with a run himself. "After The Apprentice is over in June," Cohen said, "if he's still not happy with the choices, we are all ready to launch a campaign for him as a third-party candidate, as an independent." Still not happy? He's sounding like a tough sell.
Does this mean Perry is in for a Trump endorsement? Or could he just be hoping for a little discount on his New York City head-quarters? And why otherwise do candidates feel the need to impress Trump? That's another issue entirely.
The Blaze has footage of the two well be-coiffed men leaving the Trump Tower together:

Have a tip we should know? tips@mediaite.com