Angry Radio Rant And Campaign Email Show Dan Savage Has Finally Gotten To Santorum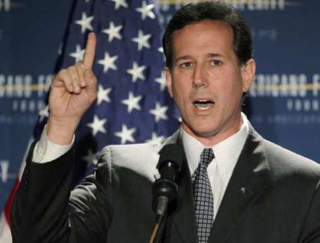 It was bound to happen sometime– Rick Santorum has been sex columnist Dan Savage's favorite punching bag for some time now, launching a Google campaign to turn his name into a gay sex euphemism and fantasizing aloud about having sex with him. Santorum took most of it in stride, or at least silence, but it appears Savage's appearance on Real Time last Friday was the last straw. This week, Santorum sent out a fundraising email condemning "hate activist" Savage and went on a long tirade against him on The Steve Malzberg Show.
While, for the most part, Santorum has ignored the Google campaign against him, it is fairly clear he has decided this week that it's time to go to war. Radio host Steve Malzberg welcomed Santorum to his program on Monday and, after replaying the Real Time clips discussing Rep. Michele Bachmann and himself, asked Santorum for comment: "What is your reaction to this filth?" Santorum proceeded with an uncharacteristically enraged rant about how his "integrity" was in jeopardy and how "vulgar and disgusting" Savage was. It is worth reproducing in its entirety:
This man has gone out there and tried to destroy my integrity– I mean, you've heard about this Google issue, that's Dan Savage. It's the lowest debasement of public discourse. It's offensive beyond anything that any public figure or anybody in America tolerate [sic], and the mainstream media laughs about it. They kid about it. They write about it. They say Santorum's  'Google problem,' and when you see this kind of over the top– the Google thing is worse than what he said there– they laugh about that, too. Why? Because it's a liberal beating up on a conservative, and that's okay. And whether it's Rick Santorum or Michele Bachmann, it's the left making fun of someone who believes in the values that built America, that believes in traditional marriage. How outrageous! How bigoted! How hateful that you actually believe that raising children in families with mothers and fathers is something to be encouraged! Just because you hold those opinions you are subjected to the worst form of vulgarity on the internet, on television, on everything else… I wear it as a badge of honor that someone as vulgar and as disgusting and as hate-filled as Dan Savage sees me as Public Enemy #1. To me that tells me I'm doing something right.
He goes on to rail against the "campaign of intimidation" against conservatives, as well, and then, of course, to ask for money. It wouldn't be the last time Santorum brought up fundraising in relation to Dan Savage this week, however– a few days later, he sent out an email requesting help for his campaign. The email linked to the radio appearance and explained the different levels of donation and how they help his campaign, but also included this key paragraph:
Savage and his perverted sense of humor is the reason why my children cannot Google their father's name. I took the high road for nearly a decade by not dignifying these mindless attacks, then even defending his 1st Amendment right to spew this filth. And to this day, liberals like Rachel Maddow serve as Savage's lackeys on national television, pushing his smut.
How Rachel Maddow is particularly to blame for anything remains unexplained– sure, she has made a few "Santorum" jokes, but likely not any more than anyone else on MSNBC– but her cameo in the email certainly does nothing to diminish its tenor. It is a problem to which parents already inclined to agree with Santorum can relate, shielding their children from the world's surplus of filth, but one imagines this will do little to deter Dan Savage himself. The question is, what more could Savage do to offend Santorum at this point?
Santorum's commentary on Steve Malzberg below:

Have a tip we should know? tips@mediaite.com